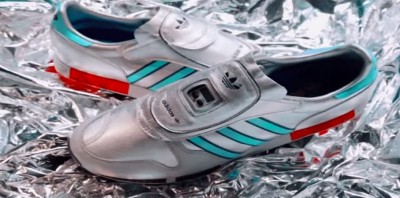 In celebration of its 30th anniversary, Adidas is re-releasing what was, at the time, a technological breakthrough in footwear.
The Adidas Micropacer was coined the first 'computer shoe' by Runners World when it originally hit shelves in 1984. Released during the L.A. Olympics, the company hoped its bold, metallic silver/blue/red color scheme, as well as the incorporation of a built-in gadget, would position the Micropacer as the 'shoe of the future.'
The reason for all of the excitement was the integration of an electronic pedometer stitched into the shoe's tongue. Placement made the LCD face easily accessible, and included a mode and reset button. Once set, the microcomputer was able to calculate not only steps, but also distance, average pace, and calories burned, making it truly ahead of its time. Unfortunately, in the 80s, small electronics were still elusive, so the Micropacer was terribly heavy and annoyingly clunky. Adidas stopped producing them three years later.
Even though it was a dud, the Micropacer still got a fair amount of attention; the Computer Museum History Centre in Boston still houses a special-edition pair. Years later, people would come to realize just how advanced the model was, sparking a rise in demand that would lead to limited, specialty reissues from 2000-2004. But on August 16, Adidas will give everyone a chance to put their running watches to the ultimate test, with the first ever wide re-release.
Check out the original ad for these retro kicks:
Image and video courtesy EYE SCREAM youtube