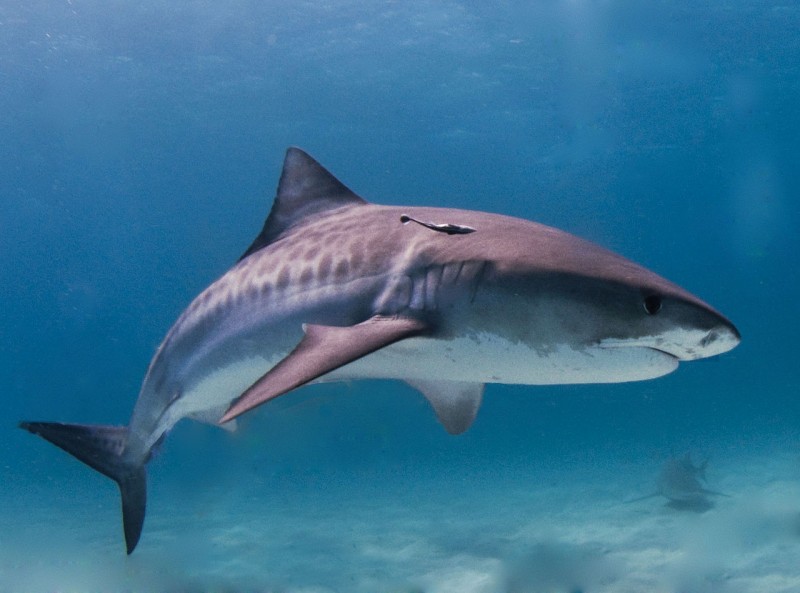 The search continues for a man participating in a commercial shark dive in the Bahamas who has been missing since Sunday. The U.S. Coast Guard received a distress call from the boat's captain around 8 p.m. that evening.
The missing diver is 63-year-old John E. Petty, who set out with a group of eight divers and four crew members from Palm Beach, Florida on Saturday. The plan was to to spend eight nights and travel to Tiger Beach, which is a dive site about 20 miles off Grand Bahama's West End known for its plethora of tiger sharks. Petty was participating through Shear Water, a shark-dive outfitter headed by Jim Abernethy that has been criticized heavily in recent years for its controversial operations.
Abernethy's reputation for leading unsafe dives stems from his decision to take divers into waters that house shark species that are dangerous to humans. "Tiger sharks account for a large percentage of the relatively small number of shark attacks on people each year. Abernethy lost a diver to a shark attack in 2008 and has himself been bitten," Outside reported.
Petty was last seen 20 nautical miles northwest of West End by another diver in the group, according to CBS, which also reported he's from Longview, Texas. The trip was open to only those with advanced open-water certification, which Petty acquired earlier this month. His camera and mask were found, but no other clues. Currently, a search is being carried out by the Coast Guard Cutter Dolphin from Miami, the Coast Guard Air Station Miami Ocean Sentry aircraft, and the Coast Guard Air Station Miami Dolphin rescue helicopter. While it's unknown exactly what happened to Petty, a medical emergency or accidentally swimming into a fast current could have been the cause for his disappearance. 
Image courtesy of Albert kok/Wikimedia Commons