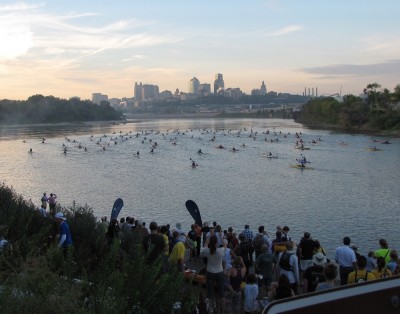 As the longest and one of the most beautiful rivers in the country, the Missouri River is a constant reminder of all that nature has to offer. For thousands of years, the river has provided water for drinking, farming, and even power for many communities along its 2,341 miles. Water sport enthusiasts are also drawn to the river because it offers more than 1,500 square miles of open water.
In Missouri especially, the river is vital to everyday life. "More than 50 percent of all of Missouri gets its drinking water from this river," said Ann Dettmer, external affairs manager at Missouri American Water. "That is why we sponsor this race. We want to focus attention on how important a water supply the Missouri River is and work to protect it."
The race she's referring to is the Missouri River 340, which Missouri American Water has sponsored for the last four years. After the sponsorship began, the race became known as the Missouri American Water MR340. Founded nine years ago by kayaking and canoeing enthusiast Scott Mansker, the race challenges paddlers to travel 340 miles non-stop in the sweltering heat along the stretch of river that runs through Missouri, specifically from Kansas City to St. Charles.
"I first paddled the river in 1989, and it was a great experience," Mansker said. "It's amazing how three or four miles out of Kansas City there's wilderness, and at that time no one else was out there. That's my favorite part; you can find peace and solitude. I love paddling at night under the full moon, or going on any journey with a destination to work toward. It's just you and your boat, and you have a place to go; it's a lot of fun.
"I continued to paddle the river for years, and finally thought, 'I have to get more people out here.'"
So, with the help of some friends, Mansker created a website advertising the inaugral event, and was pleasantly surprised to have a few dozen boats show up. He could have never predicted that in coming years, the number of paddlers would increase to 620 participants, including paddlers from 37 states and four countries.
Luckily, as the event gained momentum, businesses along the Missouri River began to take notice. Missouri American Water is just one of the organizations that made a connection with Mansker's mission. The Missouri River Relief, the Healthy River's Partnership, and the Lewis and Clark Nature Center also saw the Missouri River 340 as an opportunity to spread awareness and promote conservation.
"That is what makes this event unique," Dettmer said. "It's an extreme sport event with an important environmental mission."
Manskar elaborated, saying, "The more people use the river, the more stewardship and ownership they feel, so they are more willing to protect it."
This year's edition is set for the second week in July, with 400 boats launching on July 8 in either the solo or group division. Many of Missouri's river towns will host checkpoints in order to keep tabs on the paddlers and ensure everyone completes the course in the 88-hour time limit. Safety boats will also troll the full length of the course in case of an emergency. "It's really important to me to be safe, so every year we add space for entries as we add safety boats," Mansker said.
Though 88 hours may seem like a long length of time, many paddlers will complete the course in less, with the record set last year at 35 hours and 58 minutes. But the beauty of the race is that it encourages paddlers of all disciplines to participate. "Everyone does the race in their own style, but any given year we have about 30-50 percent return participants," Dettmer said.
"When I think about the paddlers I have met, many of [whom] cross the finish line [first, second, or third] in their division, the people are so diverse," she continued. "A woman who's a firefighter in California, a 70-year-old woman from a small town in Missouri, teenage boys and girls, or whole families that paddle together. It's such a huge cross section of ages and people from different states and mentalities, it's truly amazing."
Both Dettmer and Mansker are excited to see the Missouri 340 continue to grow, not only in entrants, but also in activists. "I think we really want to see it grow in the part of the event that speaks to preserving and protecting the river," Dettmer said. "We have an obligation to protect this great resource; that is what's most important."
Images courtesy of Missouri American Water