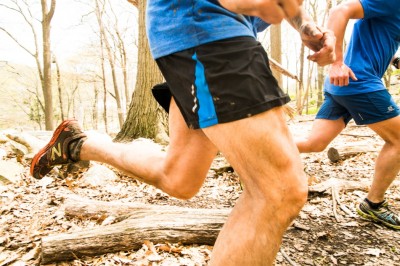 Forget the barbed wire crawls, underwater tunnels, and jumps through fire.
For the new O2X Summit Challenges debuting in September at four ski areas across the Northeast, it's all about using the mountain as a natural race course for runners, hikers, and outdoor lovers.
Leave it to a trio of former Navy SEALs and an attorney to come up with the mountain running series set to stop at Vermont's Sugarbush Resort September 13-14, Maine's Sunday River September 27-28, Loon Mountain in New Hampshire October 18-19, and New York's Windham October 25-26.
"02X Summit Challenges are crafted mountain experiences that are fundamentally different from simple uphill running races," said O2X Summit Challenges co-founder and former Navy man Gabriel Gomez in a news release. "We've worked with local mountain managers and national performance experts to create challenging and enjoyable adventures for all levels of outdoor enthusiasts."
Each race features a weekend-long "Base Camp" that combines camping, nature hikes for athletes' entourages and spectators, a farmer's market with local goods, and exhibits geared toward training and performance.
Race organizers also have the environment on their minds, pledging to leave each venue better than they found it while also giving back through 1% for the Planet, an organization focused on donating one percent of proceeds to nonprofit groups.
The competitions are centered on a belief that natural terrain is both the most challenging and most beneficial for athletic performance, like a near-vertical hill for strength, a fallen tree for balance, and a boulder field for dexterity.
Why go natural instead of creating some intense obstacles?
"Well, for a few serious reasons," former attorney and co-founder Craig Coffey told Wicked Outdoorsy. "First, expending fuel and resources to construct false mud-pits, electrocution gauntlets, and [two-by-six] framed cargo net climbs in a parking lot is (a) already being done and (b) very unnecessary. When you look at Mt. Ellen, North Peak at Sunday River, Loon Mountain, Windham Mountain, or any mountain for that matter, you see that Mother Nature has created all of the natural obstacles, and then some, that we need to set up a challenge run."
Whether an elite trail runner or dedicated hiking weekend warrior, the series is designed for a variety of fitness levels all concluding with a summit finish.
"Whether you're in the Himalayas or the Green Mountains, the reality is that nothing is more satisfying than overcoming a physical and mental challenge at the summit of a mountain," Gomez said. "That experience, that sensation, and that feeling is what we're trying to give everybody at the O2X Summit Challenge Series."
The first stop at Sugarbush incorporates Mount Ellen, one of the Green Mountain State's 4,000-foot peaks, features two races courses. One route gains some 1,000 net vertical feet while the other is 2,000. Both combine glades, access roads, single track, and sweeping slopes.
Before launching the series, the four owners did some serious research.
"We have completed dozens of triathlons and marathons, and three guys were Navy SEALs," Coffey continued. "Fitness and respect for the wilderness is in our collective DNA. The research? Looking at the market, we see two types of companies who are having great success—the first is the obstacle course market that gets by with contrived challenges. Doing well, but not appealing to us personally. The second is the endurance event companies—marathons, halfs, trail runs, triathlons—that are also doing extremely well. We saw the demand for a combination of the two: trail running over authentic, natural challenge courses set in mountains. The reception has been great."
Registration for each event is $120 plus camping. For more information, visit the O2X website.
Images courtesy O2X Summit Challenge