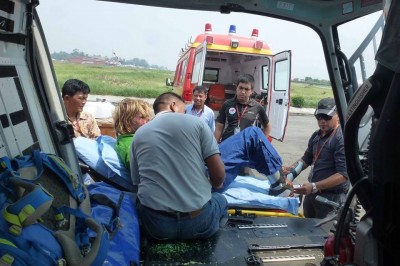 American scientist John All fell into a 70-foot crevasse while conducting climate research on Mount Himlung in the Himalayas on May 19. His name made headlines after he published a series of videos on YouTube, which he recorded during the ordeal.
During the fall, the Western Kentucky University professor and member of the American Alpine Club broke his arm, five ribs, and dislocated his shoulder.
After spending about five hours climbing out of the dangerous location, he made it back to camp and called for help. Although he wasn't able to be reached until the next day because of slow communication and oncoming darkness, Global Rescue found All and took him to safety.
Global Rescue is a crisis response firm that provides medical and security evacuation services to corporations, governments, and individuals. After All was reached, he was taken to a hospital in Kathmandu where his injuries were treated. Now, All is back in the United States and is healing well. Further updates can be found on the American Climber Science Program's Facebook page.
All, who had moved his expedition from Mount Everest to Mount Himlung after the climbing season was canceled, posted about the experience on Facebook and called it "one of life's hardest moments."
Images courtesy Ann Shannon/Global Rescue