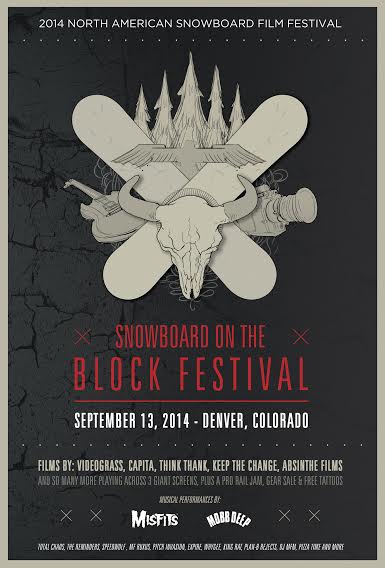 Snowboard events take place all over the world, but there is only one that combines the mastery of the year's top videos, the relentless energy of a music festival, with the nail-biting action of a rail jam in the streets. We are thrilled to announce that the largest snowboard season kickoff event in history, Snowboard on the Block, the 2014 North American Snowboard Film Festival will return to Downtown Denver on Saturday, September 13th 2014. The event will take place at the same site as last year, closing off three blocks in Denver's Rino Arts District at 35th St. and Walnut St.
Designed to pay homage to the classic tradition of the annual snowboard video, Snowboard on the Block is a gathering of pro riders, industry vets and fans alike for a wild party that only Denver can provide. In addition to the world's top releases from this past season, the festival will feature national and local music acts across three stages, a live rail jam on 25 tons of real snow featuring some of snowboarding's top stars, a gear sale with insane discounts from local core retailers, a photo show, free tattoos, mini ramp, and so much more.
"This annual tradition brings the snowboard community together to get excited for the coming year. This fall, we're taking the festival to a whole new level," said Adam Schmidt, Founder of Snowboard on the Block. "Not only have we stepped it up with an expanded and more diverse music lineup, but we've already confirmed the festival will premiere all of the best snowboard films of the year. Because of which, we've tracked down and secured the largest High Definition LED screen in the country for this year's festival."
The 2014 Snowboard on the Block Festival will include:
Film premieres from top production companies and everyone's favorite grassroots video companies in snowboarding, including the latest from Absinthe Films, Videograss, Think Thank, Keep the Change, Capita, and many more.
Musical performancesacross three stages: Misfits, Mobb Deep, Total Chaos, Expire, The Reminders, Speedwolf, MF Ruckus, Victory Heights, Pitch Invasion, Whygee, Git Some, DJ MFM, King Rat, Unreasonable Human, Plan-B Rejects, Pizza Time and more to be announced throughout the summer.
The biggest rail jam the streets of Denver have ever seen with over 25 tons of real snow.
Snowboard Gear Super Sale with discounts up to 75% off from the regions core snowboard shops.
Free tattoos all day long courtesy of Sailor Jerry Rum.
Mini ramp skate sessions for festival goers.
Constant gear giveaways from all of the top brands in the industry.
Food and drinks from many local vendors.
Expected 10,000 attendees.
Very limited pre-sale tickets will be available online for only $10.00 at TicketWeb and Ticketmaster on Saturday, May 31, 2014 at 10 a.m. MST. Following the pre-sale, tickets will be available online for $15.00 or $25.00 the day of the festival. A limited number of VIP tickets are also available.
Be sure to snag your tickets early for a discount. Tent space and sponsorship opportunities are available. For more information, please visit blockfestival.com.
Image courtesy Snowboard on the Block Festival