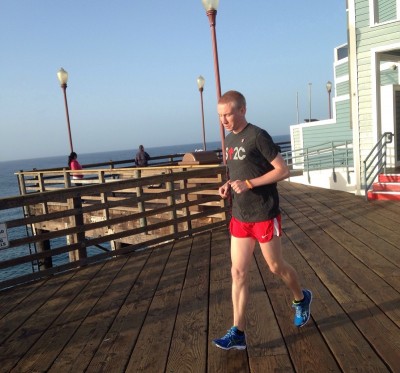 Cancer affects the lives of most Americans in some way. Whether it's a distant relative or a close friend, it's rare now not to have some run-in with the disease that kills one person every minute, according to Stand Up To Cancer. Maybe that's why Garth Watson, a young, healthy runner from Pennsylvania, has decided to partner with the organization for his run across America.
"I've never been directly affected by cancer, nor have I ever lost anyone close to me because of it," Watson explained in his Stand Up To Cancer blog post. But that didn't prevent him from wanting to make a difference when he heard about the organization's unique approach to improving the lives of cancer patients.
"I looked into the organization and saw all of the great things they were doing to bring researchers together from a variety of institutions to team up in this important fight," he wrote. "It made me realize that we truly can make a difference and fight back against the horrible things in life."
On May 11, Watson left his hometown and journeyed to Los Angeles. At 7 a.m. on Oceanside Pier, he began his personal contribution to cancer research.
Watson can trace his love of running back to early childhood. Like many, he was drawn to the freedom long-distance running provided, as well as the sense of control. In 2007, he tackled his first run for a cause, running 426 miles across Pennsylvania to raise money for a new track at Canton Area Jr./Sr. High School, where he was currently an eighth grade student. With the help and support of his father, Frank, Watson successfully completed the task in 24 days, averaging 18 miles a day.
Since then, Watson said he had become a bit complacent. After graduating college and finding it difficult to secure a job, he once again turned to running for a sense of purpose. "I was just kind of living but didn't really have a certain direction I was going in," he told Runner's World. "This is kind of a second chance for me to get back into it [running] and prove to myself that I still have it."
The success of his trip across Pennsylvania helped shape the idea to run across America. Hoping to cross the country by foot in 150 days or less, Watson estimates he will need to run at least 30 miles a day. He also hopes to raise more $10,000 for Stand Up To Cancer through a Crowdrise campaign. In order to keep his friends and supporters in the loop, Watson plans to blog each day and share his experiences.
"I'm trying to enjoy the runs, enjoy the scenery, and take it one run at a time." he said. "I've never even driven across the country, so I'm seeing all these things for the first time, and it's really beautiful. That helps, just to be able to enjoy that."
So far, Watson has raised more than $4,400. He continues to run with the help of friends and family who are traveling in a support car. And, according to his blog, he has once again found his place. "After all the years of fighting the age-old question of purpose, I've realized that the way for me to help may have been something I've been doing for a long, long time. Running with purpose," he said.
To learn about how you can get involved, visit Watson's website.
Image courtesy garthruns.wordpress.com