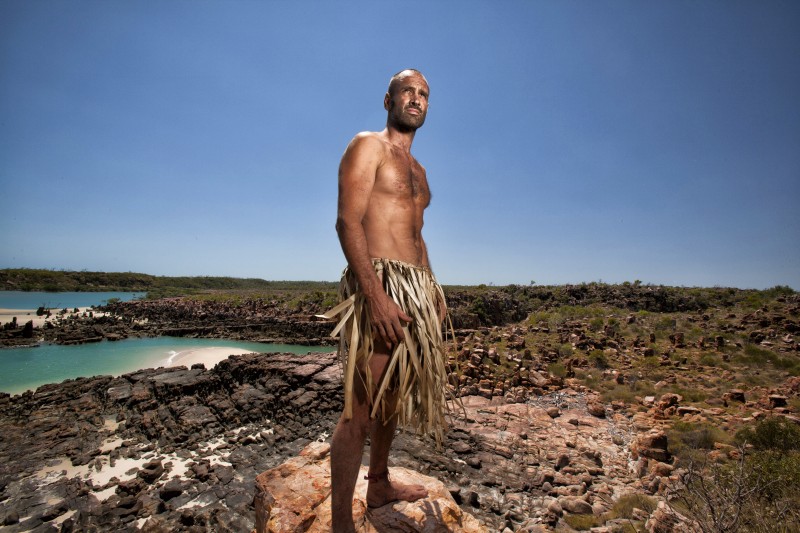 Building on his past series of Walking the Amazon, Naked Castaway, and Naked and Marooned, a new Discovery Channel series requires Ed Stafford to visit five different environments and survive for 10 days in each of them—without the clothes on his back. Marooned takes the outdoor survivalist to the Gran Sabana mountains of Venezuela, the Okavango Delta in Botswana, the Carpathian Mountains in Romania, the coast of Western Australia, and the jungles of Borneo in Brunei.
While nudity is clearly a big selling point for the show, Stafford, 38, said going into these environments naked was more about being fully vulnerable in the outdoors rather than trying to add shock value to the five-part series.
"It makes a big difference, psychologically," he said. "You go in naked and you just feel exposed and a bit ridiculous. But if you go in with combat boots and trousers, you feel prepared. Being naked makes it 10 times harder. Initially, I kind of fought against it. I didn't want to just be known as the naked guy. Having done it, it makes it far more intense."
In addition to this vulnerability, Stafford is left at each location without food, water, or a knife. The series premiered on April 23 and unlike similar survival shows, Stafford does not have the assistance of a camera crew or the luxury of taking breaks that feature the amenities of home. It's just him and a bag of camera equipment. He said it's this feature that sets Marooned apart from the others, but made sure to mention this thought was not meant as an insult toward the shows.
"Anyone who has ever worked in television knows, 'Ok, we need to do the fire-lighting scene again.' Here, whatever happens, happens," he explained. "It's not scripted. If things don't go perfectly, no one is going to help me. Quite often you do need a crew, a director, and a script—here, this is just what's happening to me and I'm trying to record it."
Compared to his previous experiences spending 860 days crossing the jungle for Walking the Amazon and 60 days spent on a desert island for Naked Castaway, Stafford admitted he initially assumed filming for Marooned would be "a walk in the park."
He was wrong. "Being dropped off in a different environment each time has been extraordinarily hard. It's the breadth of locations—the high altitude, the extreme aridness of the desert, et cetera. Filming in Africa was the location I was most scared of, considering all of the large animals, but I ended up loving it," he said.
Stafford said before filming began, he would spend several days with indigenous people in each location learning their advice about shelter construction methods and other helpful tips. He said it was the learning experience that was the most humbling part of filming the show, as many survival shows take on an invincible approach, where the survivalist believes they can succeed without assistance of any form. "Some shows have that arrogance to them," he said.
In 2010, Stafford was chosen as one of the National Geographic Adventurers of the Year. In 2011, he was named the European Adventurer of the Year. As someone who holds adventure in his heart, he plans to continue working with Discovery Channel on similar projects in the future. Although he wouldn't get into too much detail, he said there's talk of releasing a second half of the series or an entire new series next year. "There are other concepts in the pipeline, all with Discovery. Hopefully with clothes on," he joked.
Despite the clear dangers one can face in the locations he's stranded, Stafford doesn't seem to mind.
"I'm not a stupid guy. I have a degree and I can go get a job at a bank that would probably be far safer and [provide] a more reliable income," he said. "Life is about living and every time you put yourself outside your own comfort zone, you grow a bit—you become a bit wiser."
Check out the next episode of Marooned on Discovery Channel at 10 p.m. ET/PT on Wednesday.
Image courtesy of Discovery Channel