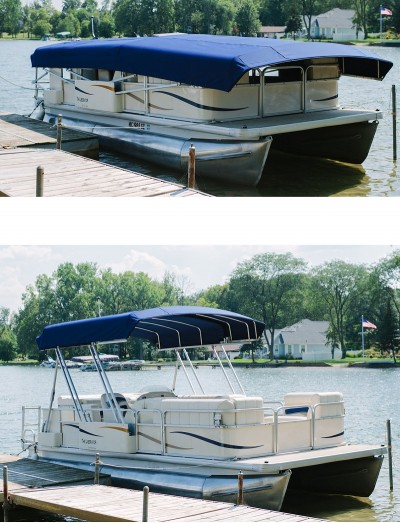 Covering and uncovering a pontoon boat is no longer a necessary hassle. The Liberator from Jackson Canvas Company is a fully automatic, key-fob controlled mooring cover/cruising top combination. To help make this innovative cover stand up even more to the great outdoors, it's constructed from Safety Components' WeatherMAX 80 fabric.
"We were looking for a lightweight material that was abrasion resistant," said Ted MacCready, president of Jackson Canvas Company. "Weathermax 80 is unbelievably abrasion resistant. Years of UV exposure testing has also indicated that Weathermax 80 material retains its color and shape."
"The strength and durability of the material has been proven by intensive on-the-water testing. Weathermax 80 exceeded my expectations in every possible way," said MacCready. "The dimensional stability of the material provides a means to maintain the tight, convertible-type trim tension on the top regardless of the weather conditions. There's no sag and bag that is so common in most of the materials used in the boat cover industry."
In lab tests, WeatherMax outperforms marine-grade polyesters and acrylics in strength and resistance to tears and abrasion. Its tightly woven, solution-dyed SaturaMax yarns resist fading for five years or more.
"Unlike most of the conventional covers, the Liberator, made from Weathermax 80, doesn't have to be removed for trailering. Weathermax 80 is watertight, but not airtight, allowing the material to breathe," continued MacCready. "A wide variety of colors are also available."
Safety Components' exclusive, eco-friendly HydroMax finish enables WeatherMax to shed moisture and resist mildew while maintaining breathability. This makes it exceptionally well-suited for outdoor storage. The fabric is also recyclable.
The Liberator from Jackson Canvas Company enables owners to uncover or cover their boat in less than 45 seconds, letting them spend more time enjoying the water. It has four separate positions: mooring cover, bimini, double bimini (full shade), and bridge for a low overpass. More information on the Liberator can be found on the company's website, www.jacksoncanvas.com.
Image courtesy WeatherMax