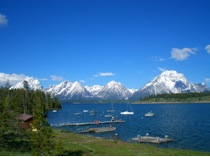 Sparse crowds, abundant wildlife and great values await vacationers whose 2014 travel plans afford them the ability to get out and explore Grand Teton National Park this spring. Signal Mountain Lodge, the only lakefront accommodation in the heart of Grand Teton National Park, is offering Spring Special rates on its Rustic Log Cabins and Lower Lakefront Retreats for savings of up to 32 percent per night.
Normally priced from $164.35 to $224.35, Signal Mountain Lodge's Rustic Log Cabins may be reserved for $149 per night, plus tax. These quaint, one- and two-room log cabins are available in multiple configurations to accommodate 2 to 6 people. Each cabin comes with a private, indoor bathroom and some cabins include a gas fireplace.
Priced at just $199 per night, plus tax, the Lower Lakefront Retreat rooms usually run $292.35 per night. These rooms accommodate up to 6 guests and offer stunning views of the Teton Mountain Range and Jackson Lake and have been completely remodeled for the 2014 season. Each Lakefront Retreat has one bedroom and a living room with sofa bed, a kitchenette with refrigerator, microwave, two-burner stove and coffee maker.
As a separate special, members of the Grand Teton Association will receive 30 percent off all lodging at Signal Mountain Lodge from May 9-31, 2014, and Oct. 1-18, 2014. The discount also applies to all boat rentals from May 17-31, 2014.
To reserve the Spring Special OR Grand Teton Association Member Special at Signal Mountain Lodge, call (307) 543-2831. The Spring Special may also be reserved online.
Image courtesy Forever Resorts