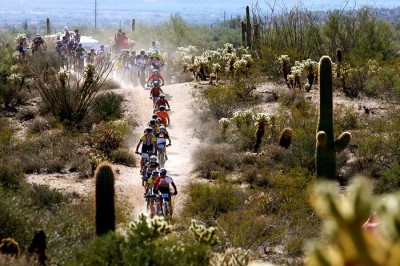 The National Interscholastic Cycling Association (NICA), a youth development organization governing interscholastic mountain biking in the United States, today announced it was selected to receive $75,000 in the form of a matching grant from Dick's Sporting GoodsSports Matter crowd funding platform. Shimano, who learned of the grant at last week's Bicycle Leadership Conference (BLC), quickly contacted NICA to make the first significant contribution – a $20,000 Shimano / Pearl Izumi donation.
NICA's Executive Director Austin McInerny first announced a $50K challenge during his participation on the BLC panel – Youth: The Face of Cycling's Future – calling on the industry for $500 and $1,000 donations. Since that time, NICA made a second request to Sports Matter for an additional $25,000, which was accepted late Tuesday afternoon.
"The reception to the initial $50,000 challenge at the Sea Otter Classic was supportive enough to push us to raise our own goal even higher," said NICA's Development Director, Suzette Ayotte. "It's risky because the reality is that we could walk away with nothing."
NICA is asking the bike industry to support this fundraising challenge with $500, $1,000 or higher, tax-deductible donations directly to Team NICA 2015 at the Sports Matter platform website. "There are key sponsors who have carried us" Ayotte explained, "and while we can't refuse support from those stalwart backers, this is an opportunity for others to step-in and contribute to the most exciting effort underway in youth cycling in the country. We are extremely grateful to Dick's Sporting Goods for this opportunity."
Dick's Sporting Good Foundation is giving away two million dollars through its Sports Mattercrowdfunding platform and NICA is number four on the list of 188 applicants in terms of total matching dollar volume. Sports Matter will match donations and release the $75,000 grant only when the goal has been met. If NICA does not raise the money, the donor's credit card transaction is reversed.
Added Austin McInerny, "Following the BLC, a number of people asked, 'How can we get involved, how can we help NICA?' This is it. This is how you can help right now. Demand for our services and programs exceeds our capacity and, if awarded, this grant will help us continue to expand youth cycling opportunities across the county. With programs currently running in 13 regions after only four years, just think of the possibilities with the additional support."
Image courtesy National Interscholastic Cycling Association