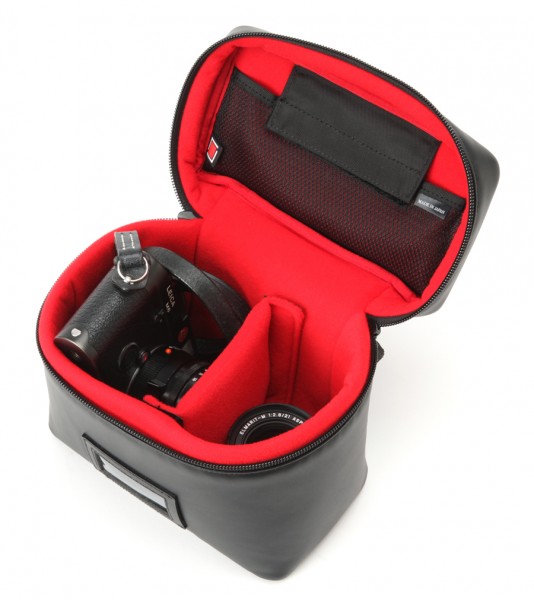 Artisan&Artist has introduced a new vanity-type case which can hold one mirrorless (MILC) camera or a Leica M, together with one additional lens. The ACAM-63 compact case is 7-1/8" x 5-7/8" x 4", with a good-looking combination of black cowhide, nylon and PVC.
To protect the camera from external shock, soft Nylon French pile (terry) material is used for the inner case and compressed urethane is used for the padding of the inner case. A detachable partition in the inner case makes it convenient for adjusting its position depending on the camera or lens size.
The inner case height is made to be higher than the zipper position so the zipper slider will not hit camera body or lens when opening or closing the zipper.
In addition, a mesh pocket is provided on the back of the cover for handy memory card storage. A Velcro tape is provided at the opening entrance so contents will not come out of the pocket.
The new ACAM-63 and all A&A camera cases and camera accessories are distributed in America exclusively by MINOX USA. Retail price, $109. For more about A&A, visit their website, http://www.artisan-n-artist.com or http://www.minox.com/usa
Image courtesy Artisan&Artist