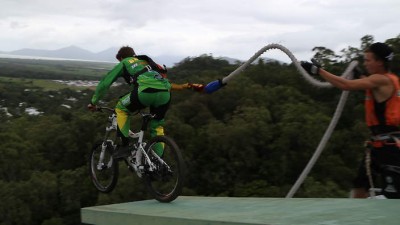 An Australian mountain biker incorporated some unique training into his schedule in preparation for competing in the 2014 Mountain Bike World Cup that is heading to Australia on April 24. On Monday, Chris Barlin bungee jumped with AJ Hackett Bungy in Cairns, Queensland—while on his bike.
"It was definitely very different to what I am used to, as we usually have very calculated training, everything is taken into consideration," he said, according to The Special Broadcasting Service. "But this was a lot of fun."
The MTB World Cup's Australian segment, known as the "Rumble in the Rainforest," includes three events—Olympic Cross Country, Downhill, and Cross Country Eliminator. Training and events will span over three days, from April 24 to 27. Hundreds of the world's best mountain bikers flock to Queensland for the competition with finals held on Saturday.
The MTB World Cup runs from April until August and is held in nine countries. The opening was held in South Africa.
Image courtesy of SBS