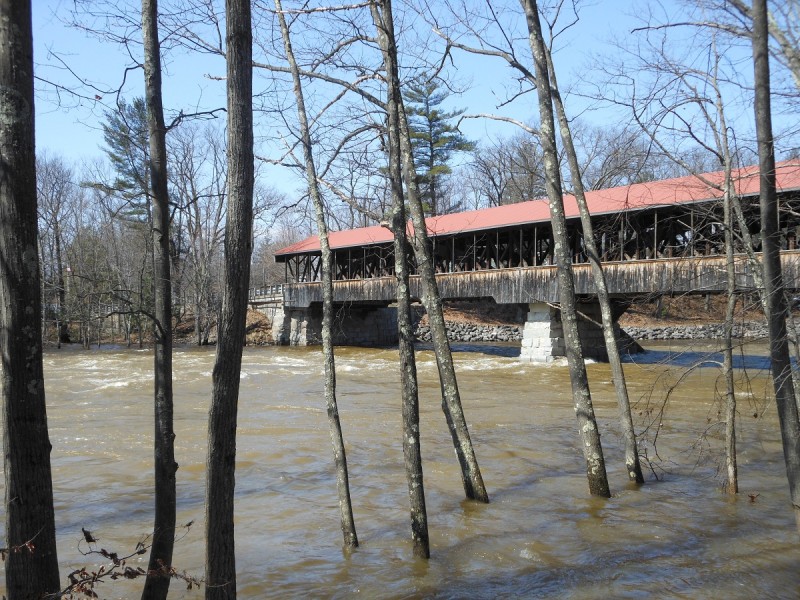 Hours after New Hampshire officials issued a warning against an icy social media trend called the "Polar Plunge," search and rescue teams were probing a freezing river looking for a man now presumed drowned after possibly attempting the dangerous craze.
The Polar Plunge—not to be confused with the fundraiser for the Special Olympics—is a fad daring young people to jump into frigid lakes, rivers, ponds, and streams dressed in summer clothing and not wearing life vests.
On Monday, the Fish and Game Department issued a warning about the perilous dare.
Members of the New Hampshire Fish and Game Dive Team, who are responsible for drowning recovery operations in the state, are very concerned about the unsanctioned Polar Plunge activities youth are engaging in.
"We are strongly urging youth not to participate, and we are asking families and community members to stay alert," said Conservation Officer and Fish and Game Dive Team Member Glenn Lucas. "The potential for life-threatening incidents to occur, because of the Polar Plunge trend, is huge."
Lucas noted that even when ice is not visible on top of the water, there can be ice below that can easily cause a slip into dangerous fast-moving water. In one recent incident recorded on Facebook, two New Hampshire teenage girls jumped into Garland Brook in the northern town of Lancaster, slipped on the ice and were nearly swept, into the current without life jackets.
A few hours after the Monday announcement, the dive team was called to the frigid Smith River in the central town of Bristol to search for 32-year-old Aaron Hoyt of Northfield, who was believed to have been taking part in the Polar Plunge.
The man was in the company of two friends in a section of the river called Profile Falls near the confluence with the Smith and Pemigewasset rivers.
"We do believe it's related to the Polar Plunge fad," Captain John Wimsatt told the Lawrence Eagle Tribune. "There is no specific evidence of a dare or request."
Divers were probing water in depths of more than 15 feet Monday and Tuesday.
"It's an unfortunate situation," Wimsatt said. "We want to know why he was choosing to go swimming in that body of water this time of year."
As the river rose, the search was suspended Wednesday and turned into a recovery operation.
"It's too high for us to consider going back there today, so we have pulled out," Lieutenant Jame Kneeland told the Union Leader. "We'll play it day by day, hopefully we can get back in there by this weekend."
According to Kneeland, two friends were upset that media reports indicated they had dared Hoyt to jump in. The reports came from statements made by rescue crews Monday night and Tuesday morning.
"I don't doubt that they were participating in a Polar Plunge, they were talking about it afterward and said they had seen it on the Internet," Kneeland said.
According to the New Hampshire Marine Patrol, immersion in cold water can quickly render even a good swimmer helpless within minutes. Even short amounts of time exposed to the rigors of frigid water can exacerbate hypothermic effects. Hypothermia is an abnormally low body temperature, often caused by prolonged exposure to cold. Symptoms of hypothermia can include shivering, a lack of fine or gross motor skills, slurred speech, stumbling, confusion, poor decision making, drowsiness or low energy, apathy, loss of consciousness, weak pulse, and/or shallow breathing. Those suffering from the effects of hypothermia may not be aware this is taking place. A person experiencing hypothermia while in the water is at a greater risk of injury or drowning.