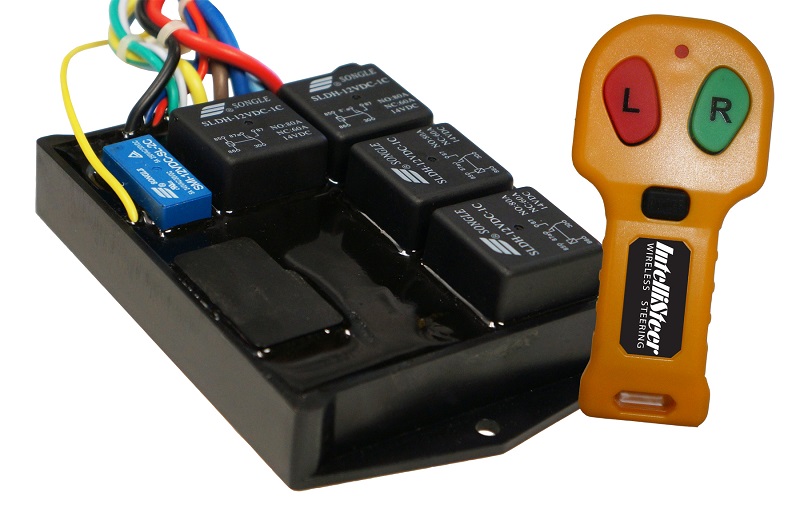 Whether fishing or cruising, boaters gain maximum enjoyment when they can relax. The Intellisteer wireless steering system from Canada Metal (Pacific) and Octopus Autopilot Drives puts the focus on ease with handheld remote steering control.
With the Intellisteer wireless pendant in hand, users can manage their boat's course from anywhere onboard. Offering pushbutton control at trolling speeds, the system eliminates the need for constantly running to the wheel for course adjustments or continually adjusting a kicker motor. DIY-friendly, Intellisteer lets users pair up to two handheld units with the receiver and uses over one million unique control codes for enhanced security.
System components include a reverse polarity- and overload-protected receiver/motor controller with a motor drive capability up to 25 A. The water-resistant, wireless pendant is designed for ergonomic comfort and comes with a lanyard to accommodate one-handed steering operation. An automatic shutoff helps preserve battery life if the unit is idle for more than 30 minutes.
A range of Intellisteer models are available to support different steering systems. Those boats already equipped with autopilot can use the Intellisteer Standalone System as a wireless steering upgrade. Wired between a course computer and autopilot drive, the Standalone System overrides the autopilot and activates wireless jog steering control whenever the user provides steering input. When the Standalone System is not in use, steering again reverts to normal autopilot mode.
The Type R System, which comes with a remote drive unit, wireless system and steering cable, directly controls a kicker motor. This setup requires a user supplied outboard cable-steering connection kit.
Intended for installation behind the dash, the Type S and T Systems replace the existing helm on cable-steered boats equipped with a dash-mounted wheel. Type S is used on straight-shaft helms while Type T works on helms with a tilt function. Both types incorporate a rotary drive system and have a clutch that disengages for manual steering. Drawing only 1.25 A under normal conditions, Type S and T Systems also offer safety override technology.
Owners of vessels with hydraulic steering gain push-button control with the Type H System. Fitted with an Octopus hydraulic pump, this system connects to most hydraulic steering systems. The Type H System, which typically draws 4-6 A, includes all necessary hydraulic hoses and fittings, and is suitable for steering cylinders up to 10 ci. Larger pumps are available for those boats with bigger cylinders.
Prices for Intellisteer wireless steering packages start at $299 for the Standalone System. Canada Metal (Pacific) supports its Intellisteer products with a one-year limited warranty on electronics and a three-year limited warranty on drive units.
Image courtesy Canada Metal