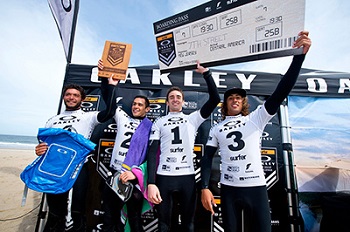 Surf shops from around the Northeast U.S. duked it out this week in less than ideal conditions in search of a victor for the 2014 Oakley Surf Shop Challenge regional title. Eleven teams were still able to put on a good show, surfing strategically in hopes of winning the paid trip to an undisclosed location in Central America for the National Championship event.
The Oakley Surf Shop Challenge is not your ordinary surf contest.  Its distinctive format pairs two surf shop employees with two professional shop team members. One member from each team surfs at a time within an hour-long heat.  Competitors are allowed three waves per heat and must run back to their designated tent/box and tag off so the next surfer can sprint out into the lineup.  Also, one member of each team is the designated double-whammy surfer, which allows them to double the amount of points they receive on a high scoring wave.  A clear notion to the judges is needed before exiting the wave in order to designate a double-whammy.  After three heats, four teams headed to the Final with hopes of getting to Central America.
Inlet Outlet advanced out of a defensive battle in Heat 1 with 21.60 points thanks to a high score of a 7.27, which was doubled by Pat Schmidt at his home break, and Corey Frank's backup of 2.73.  Jersey Devil Surf fell just shy of Inlet Outlet with a total score of 19.91 points.  Jason Reagan doubled 5.70 and Dean Randazzo's 5.87 backup was unfortunately not enough.  In third was Heritage Ocean City followed by Elemental Surf and Skate in fourth.
During the higher-scoring second heat, we saw Heritage Sea Isle City take the holeshot and first-place with a combined score of 30.94 points.  Michael Ciaramella's doubled 8.07 and Andrew Gesler's 8.50 backup was strong enough to secure a slot in the Final.  In second was defending champions 7th Street Surf Shop Boardwalk with a total of 27.56 points.  Chris Kelly scored a 6.30 and tagged out allowing his brother Rob Kelly to double his 6.93.  Their score was high enough to have them get a slot in the Final.  In third was Faria's Surf and Sport whose 22.54 total was able to get them into the Final as well.  Taking fourth place was Inlet Outlet.
The third heat was also a low-scoring defensive joust. A double whammy of a 2.90 by Zach Humphreys followed by a 4.70 posted by Perry Siganos was enough to steal the win from 7th Street Surf Shop Asbury and Ocean Hut Surf Shop.
Teams posted close combined scores but defending champs 7th Street Surf Shop Boardwalk were able to walk away with the overall win for the second consecutive time.  Rob Kelly's double whammy of a 6.33 and solid scores from the rest of the team gave them a combined total of 27.83 points.
The contest's unique combined score came into play with second place team Heritage Surf – Sea Isle City.  A doubled wave of 5.70 points by Michael Ciaramella and a backup of 8.03 by Andrew Gesler was not enough to make up for a low-posted score earlier on, and grab the victory.  Farias Surf and Sport, led by Conor Willem's highest scoring wave of a 7.0, took third with 23.44 points, while Inlet Outlet took home fourth place with 16.55 points.  Everyone was able to take home goodies from Future Fins, New Era, Oakley, Banzai Bowls, and Watermans.  However, only 7th Street was able to take the free trip to Nationals – yet again!
"We kept the same formula in play and had the same line up as last year," said Chris Kelly. "We did so well last year in the National Championship in Bali, and because of that we were able to see the team in a new light in some ways.  We had more trust in regards to making calls for one another, which is very important especially because of the Shop Challenge's team format," he added.
Their teamwork and all-around good individual surfing has once again landed them a free trip and a shot at the national title.  "We've grown up together, surfed together, as well as traveled together for so long," Rob Kelly states. "To go on another trip with the same group as last year is awesome.  Last year definitely made us hungry to come out and compete for the chance to go to Nationals.  Apart from the contest, we're just looking forward to having another fun trip.  We had so much fun at the contest as well as outside the contest, it was an awesome experience, especially with the crew we had."
Final results:
7th Street Surf Shop Boardwalk – 27.83 pts
Heritage SIC – 25.40 pts
Farias Surf and Sport – 23.44 pts
Inlet Outlet – 16.55 pts
The complete 2014 Oakley Surf Shop Challenge calendar:
March 28-29 – Southwest – Seaside Reef, Cardiff, Calif.
April 11 – Mid-Atlantic – Kitty Hawk, Outer Banks, NC
April 14 – Northeast – Manasquan Inlet, Manasquan, NJ
May 2 – West – San Clemente, Calif.
May 15/16 – Hawaii – Ala Moana Bowls, South Shore, Haw.
July 23/24 – Northwest – Steamer Lane, Santa Cruz, Calif.
August 11 – Southeast – Ponce Inlet, Fla.
TBD – National Championship – Central America
For all of the latest information including photos, video footage, results and more, check out surfshopchallenge.com.
Special thanks to title sponsor Oakley, media sponsor SURFER Magazine and co-sponsors New Era, Futures Fins, Watermans Sunscreen and Banzai Bowls, without which the Surf Shop Challenge series would not be possible.
Image courtesy Oakley