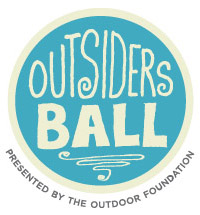 For the second year, Chaco signs on in support of the Outdoor Foundation's Outsiders Ball, dedicated to getting more young people outside and active. 
Reinforcing its belief that outdoor adventure enriches lives, Chaco has come on board as a platinum level partner of the Outdoor Foundation's Outsiders Ball. The ball, in its second year, will rally the outdoor industry around a single cause: fighting the growing divide between young people and nature and inspiring a new generation of outdoor enthusiasts, champions, and customers.
The Outsiders Ball is truly a party with a purpose," said Chip Coe, General Manager of Chaco. "By coming together as retailers, manufacturers, and industry leaders, we can ensure a bright future for the outdoor industry."
The Outsiders Ball will take over the Gallivan Center on August 5th, the eve of Outdoor Retailer Summer Market. Building on last year's success, the evening will be a memorable mix of work and play, friends and peers, an auction and live music. With tasty local bites, libations and music setting the tone.
"We are thrilled to have Chaco join The Outdoor Foundation as a platinum partner of the Outsiders Ball for the second year," said Chris Fanning, executive director of the Outdoor Foundation. "Chaco has been active in the outdoor industry for 25 years and brings with it a very engaged and committed community of adventure-seekers."
Last summer, industry leaders joined together for the first time one night to support one common cause – inspiring a new generation of outdoor enthusiasts. Hosted by the Outdoor Foundation and Outdoor Industry Association, Outsiders Ball raised nearly $400,000 to support 100 community projects across the country – many recommended by local retailers.  Watch this video to see the impact of some of the 2013 Outsiders Ball sponsored projects and a  full project list is also available.  For more information or to sponsor the Outsiders Ball, email Chris Fanning at [email protected].
The charitable arm of the Outdoor Industry Association, the Foundation is dedicated to inspiring and empowering a new generation of outdoor enthusiasts. The Outdoor Foundation is the only national non-profit supporting and investing in next-gen outdoor champions and best-in-class outdoor projects. To date, Outdoor Nation – the Foundation's signature program – has hosted 30 summits, engaging nearly 3,500 young leaders, funded over 250 projects, connecting 70,000 youth to the outdoors, invested $3 million to inspire a new generation of outdoor enthusiasts.
Logo courtesy Outdoor Industry Association