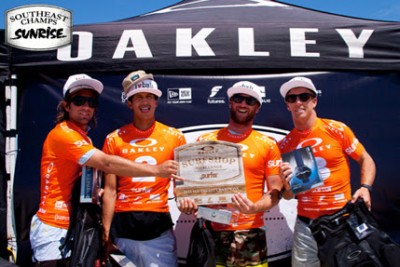 The Southeast Oakley Surf Shop Challenge has been postponed due to extreme weather conditions in Florida. The event was originally scheduled to run on either April 8th or 9th at Ponce Inlet, Fla., however organizers have made the call to postpone the event to Aug. 11th or 12th in light of high winds, rain and lack of swell.
2013 Southeast Regional Champs Sunrise Surf Shop
The seven-event nationwide search is traversing the country for the next few months to identify the best teams from stops in Florida, North Carolina, New Jersey, Hawaii and three areas of California. Four-man teams (two surf shop pros and two shop employees) will be competing for a chance to win an all-expense-paid trip to the National Championship in Central America, an advertising spread in SURFER Magazine, and the coveted title and bragging rights of best surf shop in the country.
The complete 2014 Oakley Surf Shop Challenge calendar:
March 28-29 – Southwest – Seaside Reef, Cardiff, Calif. **
April 14/15 – Northeast – Manasquan Inlet, Manasquan, NJ
May 2-3 – West – San Clemente, Calif. **
May 15/16 – Hawaii – Ala Moana Bowls, South Shore, Haw.
July 23/24 – Northwest – Steamer Lane, Santa Cruz, Calif.
August 11/12- Southeast – Ponce Inlet, Fla.
TBD – National Championship – Central America
**Denotes Oakley High School Surf Team Challenge stops
For all of the latest information including photos, video footage, results and more, check out surfshopchallenge.com.
Special thanks to title sponsor Oakley, media sponsor SURFER Magazine and co-sponsors New Era, Futures Fins, Watermans Sunscreen and Banzai Bowls, without which the Surf Shop Challenge series would not be possible.
Image courtesy Oakley