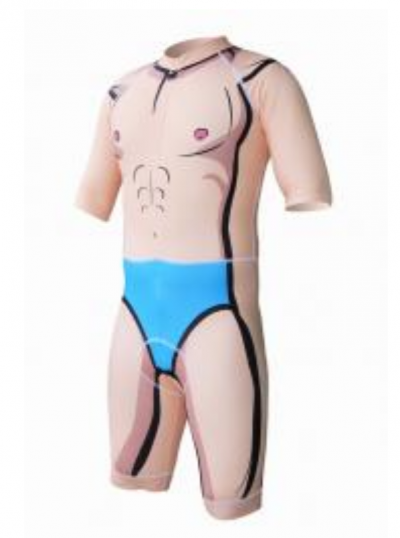 For cyclists who have always wanted to take part in events like the World Naked Bike Ride but are a bit too modest to reveal it all, Podium Cycling has come to the rescue. The company is now selling skinsuits that, at first glance, look like the rider is only wearing a bathing suit. In reality, the suits cover the body equivalent to a T-shirt and pair of shorts.
The skinsuits are available in both a men's version and women's version and are priced at $149.95 each. While most would buy one of the suits mainly for entertainment, the company also promotes the quality of the products.
"As you can see from the pictures, whether you're sitting on your bike or standing near it, you're going to look quite enviable," the description states. "All laughs aside, this skinsuit isn't only designed for its visual appeal. Instead, its endurance fabric and conveniently located zipper ensure that it will provide the performance you need for as long as you're out cycling. So if you're generally happy with your training progress but feel that a few cat calls are the only thing missing from your rides, slipping into this skinsuit is guaranteed to bring some attention your way."
These suits aren't the only interesting ones created by the company. Also for sale are Pee-wee Herman, Hipster, Tron, Tuxedo, and Spiderman cycling suits.
Image courtesy of Podium Cycling.