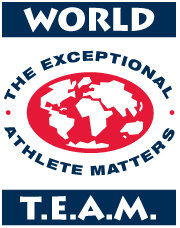 World T.E.A.M. Sports announced today that Baltimore-based life insurance and annuity company Fidelity & Guaranty Life is returning for a second year as a corporate sponsor of the non-profit's April 25-27 Face of America bicycle, hand cycle and recumbent ride from the Pentagon to Gettysburg.
The 110-mile, two day ride from Virginia to Pennsylvania honors military veterans and first responders who have served their country and often sacrificed their health and well-being in the line of duty. This year's ride is expecting will see more than 150 veterans with disabilities from the United States and Canada, the greatest number for the ride since 2003.
"It is through the support of companies such as Fidelity, Guaranty Life that we are able to continue our mission," said World T.E.A.M. Sports CEO and President Van Brinson. "We welcome them back this year and look forward to building our relationship in the upcoming years."
Paul Tyler, Senior Vice President, Strategy and Corporate Development at Fidelity & Guaranty Life is thrilled that the company is sponsoring World T.E.A.M. Sports for the second year in a row.  "We love the mix of able-bodied and disabled athletes and the special focus World T.E.A.M. Sports has on supporting disabled veterans," he said.  "FGL has a strong presence in the Baltimore area and we're especially looking forward to the 95 miles of ride through the beautiful Maryland countryside."
With an expected 560 riders from 39 states, the District of Columbia, Puerto Rico and three foreign countries, the Face of America ride is one of the largest commemorative bicycle rides in the capital region. Beginning as a cross-country bicycle ride in 2000, in which riders from each coast met at the Gateway Arch in St. Louis, the inclusive nature of the Face of America ride annually brings together riders with disabilities with those who are able-bodied.
Participating riders assist and support each other through the two days of cycling. Riders with disabilities are provided a helping hand or words of encouragement by able-bodied riders, particularly on the steeper hills of northern Maryland. On Sunday afternoon, the ride ends in historic Gettysburg, with a large outdoor lunch and celebration of the journey. For many of the participating veterans with disabilities, the ride offers an opportunity to reconnect with other veterans, eliminating feelings of isolation that many experience after departing their national service.
The 2014 Face of America Ride is supported through sponsorships from Capital One Bank, Booz Allen Hamilton, Benson Botsford LLC, BODYARMOR, FootStomp.com, Deven's Recycling, Fidelity & Guaranty Life Insurance Company, General Electric, Penske Truck Rental, Revolution Cycles, Subway of the Bethesda Naval Hospital, Three Wire Systems LLC, and Vedder Price – See more at: http://www.outdoorindustry.org/news/industry.php?newsId=19826&newsSubType=&action=display#sthash.OrEvlDW1.dpuf
Logo courtesy World T.E.A.M. Sports