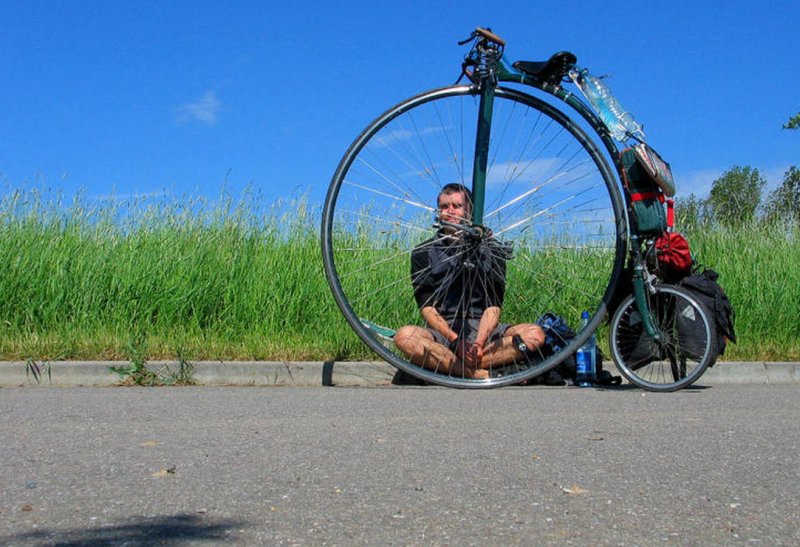 London native Joff Summerfield is one of the many who will be competing in some of the most challenging professional cycling races this spring across Europe. Unlike all of the other participants, he will be riding on a homemade penny-farthing—a bicycle with a large front wheel and much smaller back wheel that was popular in the 1880s.
In 2006, he traveled through 23 countries and across four continents on the bicycle. The trip lasted more than two years.
Now, the 46-year-old athlete is preparing to get back on his penny-farthing for another adventure.
He will be competing in five of the Spring Classics, which are regarded as some of the most difficult cycling races for a professional rider. Summerfield will begin his journey at the Tour of Flanders on April 6 in Belgium. He will be riding about 60 miles on each course, many of which feature steep inclines.
"It feels unsafe like being on a cliff edge all the time but you get used to it," he said, according to the Daily Mail. "My saddle is four-and-a-half feet off the ground and if you crash, you tend to go forward over the handlebars, so I am looking forward to the challenge of so many cobbles.
"Much of the time it will be down traditional farm tracks that are a real test of the athleticism of the professionals and so there is not much smooth tarmac. I will be a bit sore when I get off the bike but I am sure I will still be smiling."
After completing his worldwide tour in 2008, he became the first man to make the trek on a penny-farthing since Brit Thomas Stevens in 1887. In his life off the penny-farthing, Summerfield builds the bicycles for purchase and is a Formula One car engineer. He has plans for another world tour, but this time he will camp each night and survive on a budget of $8.29 per day.
Image courtesy of Joff Summerfield/crazyguyonabike.com