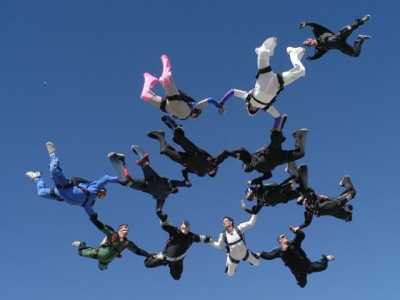 This week, 222 people have taken to the skies of Arizona to attempt to break a world record for largest double-formation skydive. Those involved with the mass stunt are part of the World Team skydiving group, all of whom are experts in the sport and represent 28 countries.
World Team Media Director Gulcin Gilbert said the athletes create two formations during a group jump before they deploy the parachutes, according to The Arizona Republic. The skydivers will jump from 10 different planes at 19,000 feet—they have about 80 seconds to exit the planes. The stunt is being held to celebrate the 20th anniversary of the organization, and it will take place at Skydive Arizona in Eloy, which is located about 60 miles southeast of Phoenix.
Gilbert said preparations started last week, with skydivers laying out the formations on the ground, as well as jumping in smaller groups to practice. The group carried out the first record attempt on Tuesday, and the event will run through Friday. Each skydiver will wear a brightly-colored suit, which will not only help them figure out where to place themselves while mid-flight, but will provide a colorful exhibit in the sky.
Despite the knowledge many skydivers gain from years of experience, there are always risks. Last year, two men were killed in the same location (Eloy) in a mid-air collision during a record attempt. The previous record for a double-formation skydive was set by a group of 110 people last year in Florida.
Image from Douglas S. Smith on Wikimedia Commons