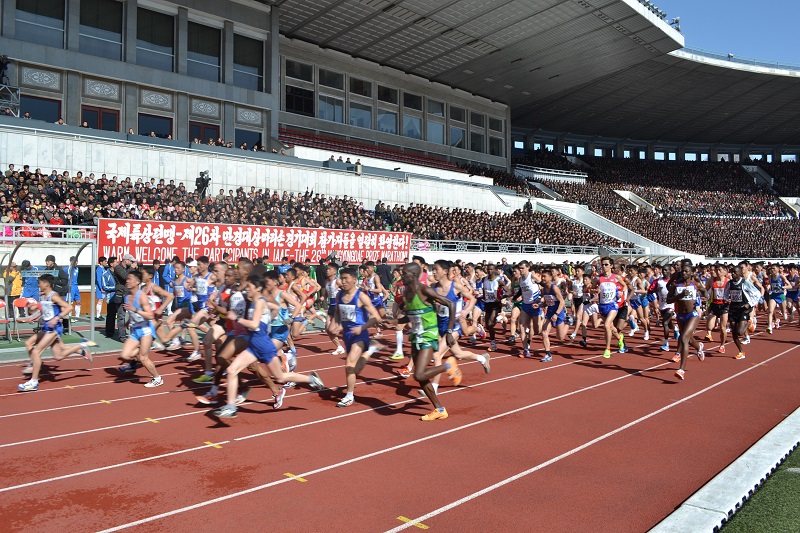 The time to pick your destination run is here. This year, a formerly off-limits competition might be worth considering.
For the first time in history, North Korea will be allowing the general public into the country for its annual Mangyongdae Prize Marathon held in Pyongyang. In the past, the event has hosted only the most elite foreign athletes, but in a major push by the tourism committee, amateur runners will now have the opportunity to compete in this remote destination.
The announcement comes only weeks before the event, but this exotic race has already piqued the curiosity of a large volume of runners, although the interest may have little to do with the race itself.
Pyongyang's full marathon, half marathon, and 10K are not notably extraordinary, featuring a mostly-flat course loop around the center of the major city. But travel agent Simon Cockerell told the Associated Press it's not the course that has led nearly 200 foreign runners to sign up for the event.
"A lot of the people going along to take part are interested in simply doing something a bit unusual, something that would cause a bit of cognitive dissonance in friends of theirs when they tell them they ran a marathon in North Korea," he said.
The marathon's open-door policy is another effort by the North Korean government to increase trade and tourism in the country that has, for so long, been isolated. Most of the country still remains closed, but designated "tourist zones" allow travelers a glimpse into this unknown world.
The first major government effort was the opening of a luxury ski resort. They have also begun to open other sporting facilities to place North Korea on the radar of sports enthusiasts. In the same way, the marathon seeks to increase tourism revenue through the action sports community. This does not include South Korean runners, who are still under strict travel restrictions.
This year's marathon will take place during the birthday celebration of North Korea's first leader, Kim Il Sung. Runners who attain the proper visas and transportation documents will start the event at the 70,000-seat Kim Il Sung Stadium, where onlookers will be entertained by soccer games, martial arts, and other recreational activities until the runners return to the stadium to cross the finish line.
There is much debate as to whether or not this will be a one-time deal, but North Korea will definitely reap the financial benefits for this event.
"Maybe [it's] just because they wanted more people in the marathon," Cockerell continued. "Maybe the powers that be didn't expect there to be so many runners entering."
Image courtesy of Russavia on Wikimedia Commons