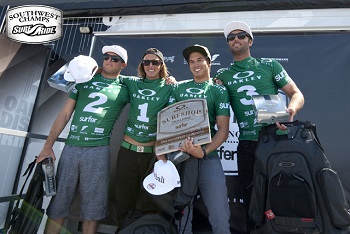 The 2014 Oakley Surf Shop Challenge presented by SURFER kicks off this Friday, March 28th at Seaside Reef in Cardiff, Calif. with the Southwest regional qualifier.  Fourteen San Diego County surf shops will compete for the opportunity to represent their region against six other regional qualifiers in the National Championship.  The nationwide search will carryon throughout the next few months traversing the continent to identify the best seven teams from stops in Florida, North Carolina, New Jersey, Hawaii and three areas of California to receive an all-expense paid trip to the National Championship in Central America for the final show down and ultimate bragging rights.
The unique event series pits four-man teams (two surf shop pros and two shop employees) against each other for a chance to win an all-expense-paid trip to the National Championship in Central America, an advertising spread in SURFER Magazine, and the coveted title and bragging rights of best surf shop in the country.
A surf mecca in its own right, the Southwest has notoriously been a contentious region with top teams at battle and always big contenders for the National Title. Surf Ride and Hansen's have jockeyed for wins over the years each with three titles under their belts: Surf Ride in 2013, 2012 and 2009 and Hansen's in 2011, 2010 and 2007.  This year could be the year to break that tie.
This year's Southwest teams:
Clairemont Surf Shop, San Diego
Emerald City The Boarding Source, San Diego
Hanger 94, La Mesa
Hansen's Surf Shop, Encinitas
Rail II Rail Surf Shop, San Diego
Rusty Boardhouse, La Jolla
Rusty Boardhouse, Del Mar
South Coast Surf Shop, Ocean Beach
South Coast Surf Shop, Pacific Beach
Sun Diego Boardshops, Carlsbad
Sun Diego Boardshops, Mission Beach
Surf Hut, Imperial Beach
Surf Ride, Oceanside
Surf Ride, Solana Beach
The complete 2014 Oakley Surf Shop Challenge and Oakley High School Surf Team Challenge calendar:
March 28-29 – Southwest – Seaside Reef, Cardiff, Calif.*
April 8/9 – Southeast – Ponce Inlet, Fla.
April 11/12 – Mid-Atlantic – Nags Head, Outer Banks, NC
April 14/15 – Northeast – Manasquan Inlet, Manasquan, NJ
May 15/16 – Hawaii – Ala Moana Bowls, South Shore, Haw.
May 30-31 – West – 54th or 56th Street – Newport Beach, Calif.*
July 23/24 – Northwest – Steamer Lane, Santa Cruz, Calif.
TBD – National Championship – Central America
*Denotes Oakley High School Surf Team Challenge stops
Special thanks to title sponsor Oakley, media sponsor SURFER Magazine and co-sponsors New Era, Futures Fins, Watermans Sunscreen and Banzai Bowls, without which the Surf Shop Challenge series would not be possible.
Image and video courtesy Oakley