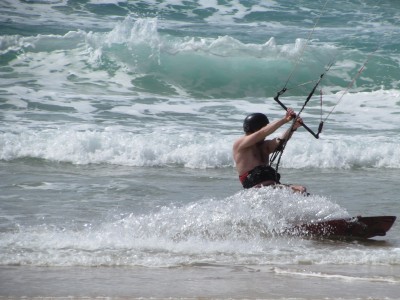 A kitesurfing instructor survived a shark attack that left 20 teeth punctures in his arm while at Delray Beach in Florida on Saturday. The instructor, 43-year-old Kurt Hoffman, was about 40 yards from the shore when he was attacked.
"At first I'm thinking I hit something," he said, according to The Daily Mail. "What the heck was that? Did I just get hit with a bunch of boards with nails in them? It just happened so fast."
Hoffman had been dragging his arm beside him in the water at the time of the attack. He said he saw the side of the animal, and guessed it was a blacktip shark.
Rather than pulling his arm away as soon as the shark latched on, he stayed still. He said the shark let go within a few seconds. "Immediately, I dove my kite and used it to self rescue to pull me on to my surfboard," he wrote on his Facebook page.
"It's pretty intense because it kind of shocks your system at the moment when it hits," Hoffman told WPTV.
He reached the shore quickly, where he was attended to by friends who wrapped his arm in a T-shirt before calling his wife, Diane, who took him to the emergency room.
"'You have to come get me, I've been bit by a shark' are much better words to hear in my husband's voice than from someone reporting for him," she wrote on Facebook.
Doctors said he did not tear any tendons or ligaments, but the wound could not be closed because bacteria from the shark could be trapped. He was given antibiotics and is wearing a bandage to heal.
Image from Amir Gluzman on Wikimedia Commons