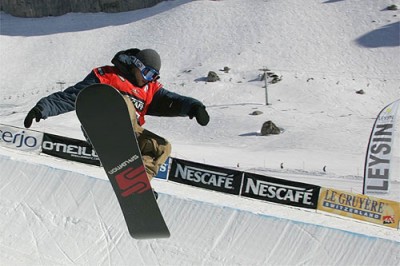 Earlier today, Norwegian snowboarder Torstein Horgmo broke his collarbone after testing out the Olympic course during a training session, leaving him unable to compete in the Games that will begin this week.
His accident is raising concerns about the safety of the snowboarding course.
"It was on the first rail element [when] it happened," team coach Per-Iver Grimsrud told The Globe and Mail. "He was doing a switch hardway, backside 270. He landed wrong on the rail, and then he fell into the stairs to the side."
Irish snowboarder Seamus O'Connor described the course as "pretty dangerous," and recommended alterations be made to avoid more athletes being injured.
"They overbuilt the jumps because they were anticipating that the snow would melt. At the moment the riders are not happy. The rails up top are too close," he said. "The riders need to speak up about the conditions. The rails can't be fixed but they can fix the jumps."
Roope Tonteri, a snowboarder from Finland, complained to reporters about the course after a training session.
"I think they wanted to make big kickers and it's not really good for riders and it's not really safe anymore," he said. "I just don't want to get injured. It's not a really fun course to ride."
American snowboarder Charles Guldemond told The New York Times that he also considers it extremely dangerous.
"The last jump has a lot of impact on it and the takeoff is really long," he said. "Some of the guys and girls are intimidated. I felt like I was dropping out of the sky."
Australian Chef de Mission Ian Chesterman said with a few adjustments, the course will be ready for the events.
"The guys working with this are the experts and the experts will make sure the course is safe. The experts are the international federation which is running the sport and they work hand in glove with the coaches who are responsible for the athletes," he told The Globe and Mail. "So I'm sure come competition day there will be just a great course for a great show."
Despite a broken collarbone, Horgmo is looking ahead.
"It is of course very sad that this happened. Falling is part of our sport, but the timing is terribly bad," he said in a statement. "Now I just want to recover quickly, get back on the board and have fun again."
Image courtesy of Voyager on Wikimedia Commons