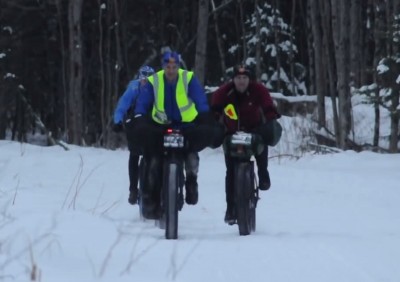 Today, one of the most challenging ultramarathons will come to a close after what may have been some of the harshest conditions in race history. With temperatures hovering around -10° F throughout the day and dropping dangerously low at night, it is astonishing to think that of the 135 participants, 48 actually finished. But this is normal for the Arrowhead Ultra, which averages a finish rate of about 50 percent of total participants.
Obviously, this race is not for the faint of heart.
At 7 a.m. on Monday, a record high 135 people began on bikes, skis, and foot in hopes of besting the Northern Minnesota elements. The goal: cross the finish line 135 miles away in 60 hours. Unlike many other marathons, Arrowhead does not hand out trophies for finishing first. This year's winner, Jay Petervay, who crossed the finish line in 20:11 by bike, will receive the same reward as the last person to make it to the Highway 77 finish.
"Racers are rewarded by the satisfaction and self-discovery that comes from pushing oneself to accomplish something truly difficult, something many people consider impossible," said Mike Riemer in the short film, The Push, which he directed and narrated to explain the impossible race.
The extreme elements require that all racers carry a number of supplies with them including a -20° F sleeping bag, an insulated sleeping pad, a bivy sack or tent, eight ounces of fuel, a flashing red light, and at least 3,000 calories of food at all times, which most people carry in the form of either a pound of butter or a jar of peanut butter. It is also one of the only races with mandatory check points. These three stops along the route provide racers with brief shelter from the cold, as well as food and water.
Why would anyone put themselves through such a tremendous ordeal is hard to imagine, but Riemer's film works to not only explain, but inspire.
View the full results on the Arrowhead Ultra website.
Image and video courtesy of Mike Reimer and Salsa Cycles on YouTube