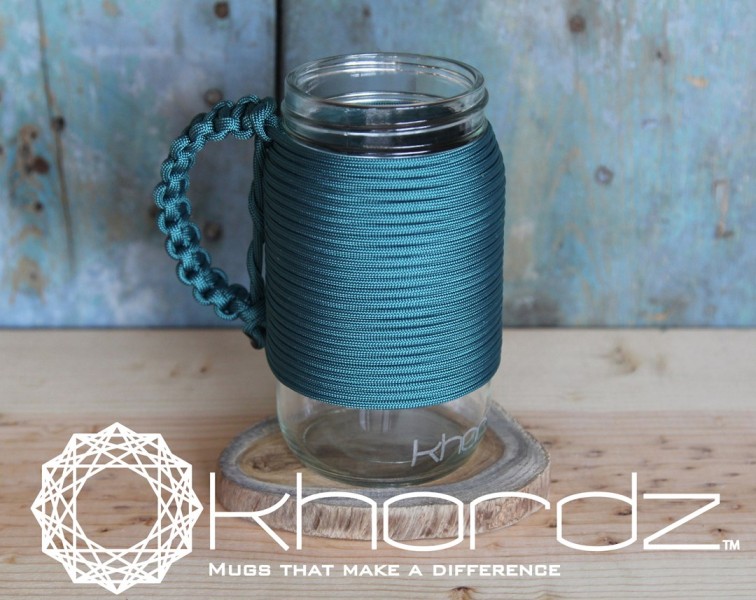 Khordz, producers of hand-crafted, multi-purpose drinkware, introduces the Khordz Handmade Mug. The customizable mugs are an eco-friendly alternative to single-use cups and are designed for survival  –whether it's the commute, the adventure or the planet.
"The goal is to get others excited about keeping plastic out of the landfill, off the beach and out of the ocean," says founder and owner, Daniel Fontius. "We aim to support those that make it their mission to protect the ocean and make sure that everyone can enjoy the beauty and resources it offers. That is why a portion of our profits are donated to Surfrider Foundation through 1% for the Planet."
The colorful hand-wrapped paracord sleeve provides a comfortable and sturdy grip and is a handy companion for the adventurer and outdoor enthusiast. The 25 feet of paracord used to create the sleeve and handle is suitable for a multitude of situations like setting a snare trap, hanging a hammock, tying up hyper siblings, or making a fire starter bow. The 16 oz. food-grade, heat-resistant glass jar can be customized with names and logos. Easy-to-clean glass is flavor natural and will not affect the taste of its contents. Every mug is made and assembled in the USA.
Khordz Handmade Mugs are available in single or bulk orders at www.khordz.com. Join the mission to reduce single-use cups and lids that otherwise will end up in the trash, landfills, beaches and the ocean.
Image and video courtesy Khordz