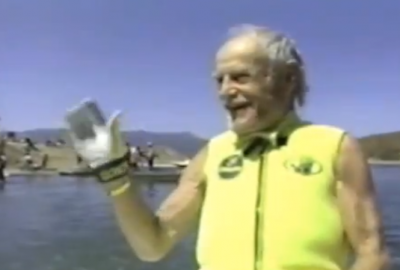 George Blair, better known as "Banana George," spent more than 50 years waterskiing while dressed in his signature bright yellow wet suit. Last week, at age 98, the waterski legend died at his home in New York City of natural causes—but it's safe to say he will not be forgotten any time soon.
According to an article published by The Ledger, Blair will continue to hold the Guinness World Record of the only person to have water skied on all seven continents, receiving the title after his 1986 ski on Whaler's Bay in Antarctica. In addition to that feat, he also skied in 45 countries. Blair was even credited by the Water Ski Hall of Fame as the person who, in 1988, opened the doors between waterskiers in the Eastern Bloc and the rest of the world.
Blair didn't try waterskiing until he was 40, in 1955. Following a back surgery that helped fuse his spine, doctors told him some of his rehabilitation could be done in warm water, which inspired him to get involved with the sport.
Although the intensity of waterskiing may not have been what Blair's doctors had in mind when they recommended "warm water rehabilitation," it was clear he had a passion for it.
"The first time I had waterskied—it was an instant high for me," Blair said in a previous article. "I just loved every minute of it."
When he was 46, he transitioned into barefoot skiing, which is when he started to receive more attention.
Blair often performed at ski shows nationally and internationally. In addition to his signature yellow wet suit, he often skied while holding the tow rope between his teeth or entertained the audience by eating a banana while skiing. He had 15 national championship medals under his belt and performed in seven water ski championships. His hard work paid off in 1991 when he was inducted into the Water Ski Hall of Fame.
Aside from waterskiing, Blair was a businessman who owned two ski schools with his family. He also was the owner of three patents and co-founded Shrewsbury State Bank in New Jersey, which merged with Valley National Bank in 2005. To prove his skills were all over the map, he also founded a baby portrait service for hospitals. 
The skier credited his ability to ski into old age to being health-conscious. Blair was known to record what he ate, what exercise he got, and how he felt.
"That's what I'm all about," he said several years ago. "I'm trying to keep healthy. So far, it's worked pretty good."
Friends and family described him as someone who was always happy around people and loved what the world had to offer.
"He has this unbelievable high," Paul McDonald, who drove ski boats for Blair, said in an interview several years ago. "He's shaking hands, talking, signing autographs. I can't explain it. He goes back to being a young man. It's amazing."
To help commemorate his life, family mentioned that donations can be made to the George Blair Ambassador of Skiing Scholarship, which is a college scholarship for waterskiers that was started before his death.
Check out the video below of Blair waterskiing at 85 years old.
Image is a screenshot from video by TonysTipsAndTricks on YouTube