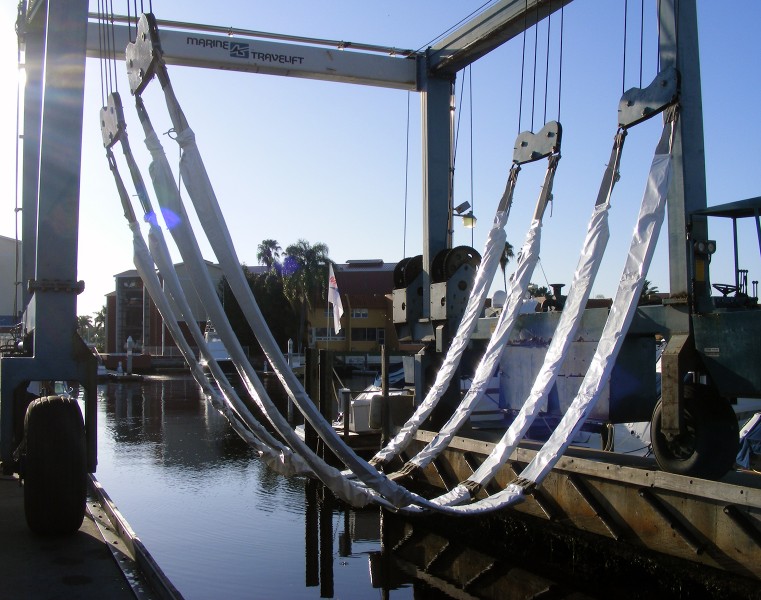 To help protect a boat's finish from marks caused by boat lift slings during launch and haul-out, international premium shrink wrap supplier, Dr. Shrink, now offers Sling-Shield. This new product is a 6 mil, white polyethylene continuous tube on a roll that has been formulated specifically for use on boat lift slings and fork lift tines.
Made from 100 percent virgin resins, it's designed to resist tearing and punctures. Sling-Shield is easy to keep clean. Dirt and grime can just be pressure washed away. This product is simple to install and only requires one person to get the job done. It shrinks with very low heat.
In addition to its use on boat lift slings, Sling-Shield is great for protecting sail boat masts during transportation. It's also helpful as a ventilation tube, when used with a fan to allow air flow into boats during service and manufacture.
Sling-Shield was developed by Euroglass and is available in two widths, 16″ for standard slings and 18″ for slings with rub-rail pads. Prices start at $75 for a 300′ roll.
A Sling-Shield Holder/Dispenser is also available for even easier installation on slings. In addition, a poly vinyl tape that is used to hold the Sling-Shield to a desired location on a boat lift sling is also offered.
Contact Dr. Shrink, 315 Washington St., Manistee, MI 49660. 800-968-5147; Fax: 231-723-9586. [email protected]; www.dr-shrink.com.
Image courtesy of Martin Flory