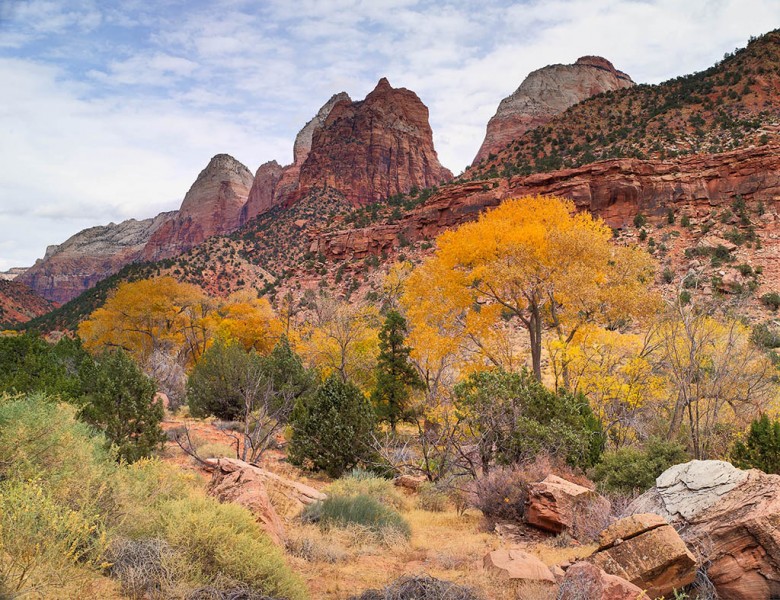 A partial government shutdown has fueled a number of frustrated outdoors enthusiasts to head to their closest national parks in protest. As part of the shutdown, park units were in the first grouping of closures, forcing many people to reschedule pre-planned vacations or simply have access denied to frequent visitors.
According to an article posted in The Salt Lake Tribune, James Milligan was one of the people to help organize "Occupy Zion" that was held on Saturday at Zion National Park in Utah. Milligan is the manager of Springdale's Zion Outfitter store, and he said he got involved to help support the larger effort, now known as "Occupy National Parks" on Facebook and #breakthebarrier on Twitter.
"Obviously, I'm not too happy about it," he said in the article. "This shop is my livelihood here, and I haven't had a customer in a week. Rangers will get their backpay, but what will people in these communities get?"
Milligan said he sent more than 3,600 invitations and 112 people accepted. Although only about 25 to 30 of them actually showed up, and a mere 15 crossed the fence, he said he considered that a success.
"I was expecting to go hiking by myself," he said.
There were rangers present at the protest who took photos and documented the trespassers, informing them they may be cited, but the 15 people disregarded the warnings and pressed on into the park.
Kanab resident Nick Smith attended the protest and talked to The Spectrum about why he got involved. 

"Our goal is to basically get noticed," Smith said in the article. "A lot of people think that it's not affecting anybody; well it is, and it's affecting us badly. It's not about the national parks, it's not about the rangers on the other side of the gate who will be taking pictures of us or warning us, but this is about Congress not doing their jobs."
Zion isn't the only park where protestors have decided to make their mark. An article in the Los Angeles Times reported that Stacy Powells, a news editor at two Eastern Sierra radio stations, was planning a protest at Yosemite National Park. The sit-down protest was held at Tuolumne Meadows inside the park on Friday.
"Closing our national parks is absurd and is hurting all of us here in the Eastern Sierra," she wrote in a letter to the Sierra Wave that was posted online Wednesday. "Our businesses are hurting. The Eastern Sierra is a tourist-based economy, and by the feds closing the parks, the livelihood of our friends, neighbors, and families are in jeopardy."
Image from Doug Dolde on the Wikimedia Commons