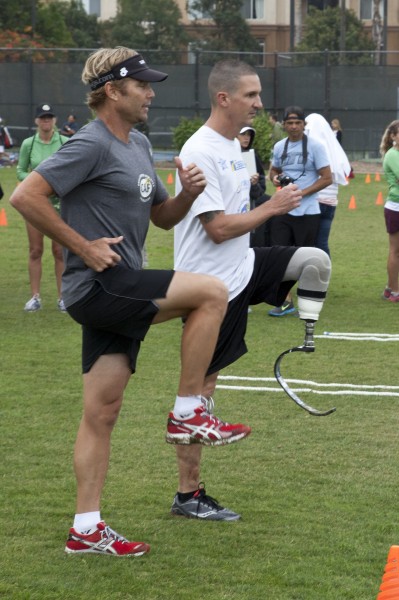 The Challenged Athletes Foundation (CAF), a world leader in helping individuals with physical challenges get involved and stay involved in sports, will host at least six of the Boston survivors at a CAF Össur Leg Amputee Running and Mobility Clinic on Oct. 6 in Boston. Held at Harvard University's Cumnock V Field (65 N. Harvard St., Boston, MA, 02163, Gate 16) the clinic is part of a series of mobility and sports clinics sponsored by Össur and conducted by CAF.
After the Boston Marathon bombings left dozens suffering amputations, CAF established a fund specifically designated to support these individuals as they return to sport CAF – along with Össur and the Knights of Columbus – will present a running leg to Boston survivor, Heather Abbott, just prior to the running clinic. Heather lost her left leg below the knee as a result of the attack and will be wearing her running leg for the first time at the Sunday clinic, where she will learn proper running technique from world-renowned experts.
"Our mission is to help challenged athletes succeed in sports – and in life," said Virginia Tinley, CAF's Executive Director. Thanks to our partners, the Knights of Columbus and Össur, we are delighted to be able to provide Heather – and any of the other survivors who request assistance – with the equipment that gets them back in the game, plus the instruction to get the most out of it."
At the Boston Amputee Running and Mobility Clinic, renowned amputee running and sports training experts Bob Gailey, PhD, PT and Peter Harsch, CP will teach athletes of all abilities how to run like champions – or to simply walk and move better – in a fun and encouraging environment. Amputees of all ages and abilities will attend, including many injured military personnel.
CAF runs more than 20 adaptive sports clinics annually across the United States and has assisted hundreds of leg amputees of all ages and abilities to learn how to run or just move better — whether learning how to run for the first time, or improving gait to compete at a Paralympic level. More than 50 amputees from across the Northeast are expected to participate in Sunday's clinic.
Image courtesy Challenged Athletes Foundation