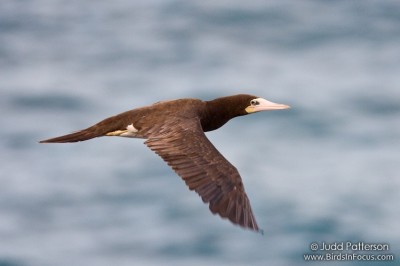 On September 23, Biscayne National Park and Tropical Audubon Society launched the Biscayne Birding Trail, a fun certificate-earning program for visitors who like wildlife and the outdoors. The program will award achievement certificates at various levels based on the numbers of bird species spotted in the park. The program is free, and available to any park visitor at the park's Dante Fascell Visitor Center. "We hope that both seasoned birders and visitors who would like to learn how to identify birds will be inspired to keep lists of the beautiful birds that can be seen in Biscayne National Park," said Park Superintendent Brian Carlstrom.
Full-color certificates will be awarded at four lifetime achievement levels starting at a life list of 30 native park bird species (Double-crested Cormorant, beginner) and culminating at 120 species (Mangrove Cuckoo, expert). A kid just starting out birding can earn the special recognition of a "Junior Birder" Brown Pelican certificate for seeing ten or more bird species in the park. To keep birders looking and listing, visitors can earn an annual achievement award certificate as well. Laura Reynolds, Executive Director of Tropical Audubon Society, envisions the Biscayne Birding Trail as a pilot program for other national parks, and hopes the program will also spur interest in conservation of natural habitats for birds. "The Audubon Society recognizes that many of the largest natural areas, such as Biscayne Bay, which are so important as bird habitat, now exist only in protected areas such as national parks."
To earn a certificate, visitors need only fill out a bird checklist, available at the park's Dante Fascell Visitor Center (located at 9700 SW 328 Street, Homestead) attesting that the birds were seen within the boundaries of the park. A ranger will verify the count and immediately present the certificate. Lifetime achievement certificates can be awarded at any time, but the annual achievement certificates would be only available through the following calendar year. Certificates must be presented in person; they cannot be mailed.
For additional information about the park, visit www.nps.gov/bisc. For regular updates from the park "like" us on Facebook at www.facebook.com/biscaynenps, or follow us on Twitter at www.twitter.com/biscaynenps.
Image courtesy National Park Service