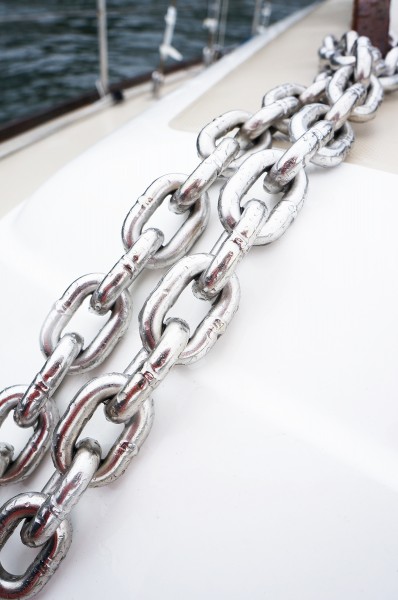 Proper mooring and anchoring demands tough, durable windlass chain. Titan AISI 316L Steel Chain, the newest product in the Canada Metal (Pacific) line of fine quality marine chain, proves that even the most functional of hardware can enhance a boat's good looks.
As beautiful as it is strong, this handsome German-made chain offers superior strength and corrosion resistance. An extra step in the manufacturing process imbues its polished stainless steel finish with exceptional smoothness. The type 316L, grade 50 variety is precisely calibrated to meet current DIN 766 windlass specifications, ensuring perfect alignment.
Titan stainless steel chains come in 6 mm, 8 mm and 10 mm wire diameters and 35 m, 50 m and 100 m lengths. Full drum retail prices range from $3,000 to $7,000 USD.
The Titan family of chain products includes premium strength anchor, windlass and mooring chain as well as rode and shackles. Canada Metal (Pacific) recently introduced Titan dock and fender lines.
Note: Titan AISI 316L Steel Chain from Canada Metal (Pacific) is launching at this year's International Boatbuilders' Exhibition & Conference (IBEX), September 17-19 in booth #1754.
Image courtesy Canada Metal