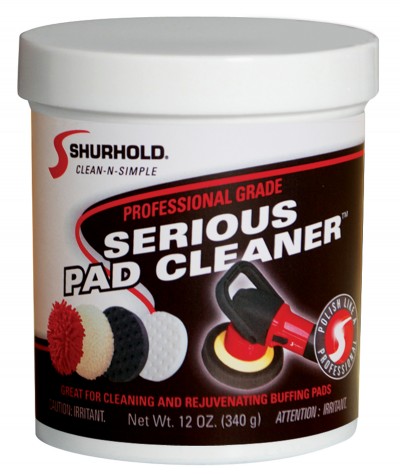 Cleaning tools last longer if they're properly maintained. Shurhold Industries' new Serious Pad Cleaner is scientifically formulated to rejuvenate the company's buffing pads, helping owners reuse the pads instead of replacing them. This powdered cleaner is environmentally friendly and biodegradable.
When mixed with water, this cleaner dissolves compounds and waxes from wool, foam and blended buffing pads, removing caked on and saturated product, too. Serious Pad Cleaner is also great for microfiber and cotton bonnets.
Pads should be cleaned immediately after use for the easiest cleaning. Owners simply mix a scoop of the cleaner with one gallon of warm water. The buffing pads should soak in the mixture for 15 minutes. Extremely soiled pads can soak for longer. Then, users should agitate the pads, brush them lightly and rinse thoroughly with clean water. Pads should be left to air dry.
A 12 oz. tub of Shurhold's Serious Pad Cleaner has a price of $14.98.
Shurhold is dedicated to educating owners on RV value preservation.  Inventor of the One Handle Does It All system, Shurhold manufactures specialty care items and accessories to clean, polish and detail.
Image courtesy Shurhold