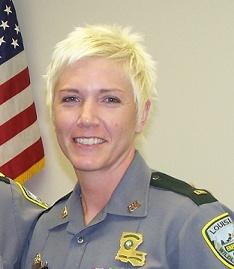 The Louisiana Department of Wildlife and Fisheries has appointed a new state Boating Law Administrator (BLA), which will represent Louisiana on the National Association of State Boating Law Administrators (NASBLA).
Capt. Rachel Zechenelly, of Baton Rouge, is replacing Col. Jeff Mayne as Louisiana's BLA after Col. Mayne stepped down from the position when he was promoted to the head of the LDWF Enforcement Division in June.
"I'm honored to be named Louisiana's Boating Law Administrator as we strive to make our waterways safer for everyone to enjoy," said Capt. Zechenelly.  "We've made a lot of progress in making boating a safer experience and we will continue to look at ways to make it even safer in the future."
Capt. Zechenelly also said she will expand education outreach programs to paddle sports due to a significant increase in people kayaking, paddle boarding and canoeing.
Capt. Zechenelly is originally from Pearl River and joined the LDWF Enforcement Division in 1999.  Capt. Zechenelly started as an agent working out of the New Orleans office where she primarily handled fishery patrols and boating safety enforcement on the water including on the coast and Gulf of Mexico.
Capt. Zechenelly was assigned to LDWF Enforcement Division's Headquarters Staff in 2005 in Baton Rouge as the boating education coordinator.  In May of 2011, she was promoted to captain and put in charge of LDWF's Boating Safety Enforcement and Waterways Management.  She currently oversees the Enforcement Division's marine theft investigations, boating crash incident investigations, and the statewide boating safety education program.
"I have the utmost confidence in Capt. Zechenelly's ability and experience to spearhead our boating safety programs," said Col. Jeff Mayne.  "She has led our boating education program almost from the beginning and is familiar with NASBLA's training curriculum and key personnel."
Capt. Zechenelly has participated and coordinated the Enforcement Division's emergency response for Hurricanes Katrina, Rita, Gustav, Ike and Isaac, the BP Oil Spill in 2010, and the Mississippi River Spring 2011 Flood event.
Capt. Zechenelly completed the U.S. Coast Guard's Marine Patrol Officer Course and the month long National Oceanic Atmospheric Administration's Marine Law Enforcement Training Program.  She also completed the NASBLA Comprehensive Boating Accident Investigation and Analysis Course.
NASBLA is a national nonprofit organization that works to develop public policy for recreational boating safety. NASBLA represents the recreational boating authorities of all 50 states and the U.S. territories.
NASBLA's mission is to strengthen the ability of the state and territorial boating authorities to reduce death, injury and property damage associated with recreational boating and ensure a safe, secure and enjoyable boating environment.
For more information, contact Adam Einck at 225-765-2465 or [email protected].
Image courtesy Louisiana Department of Wildlife and Fisheries