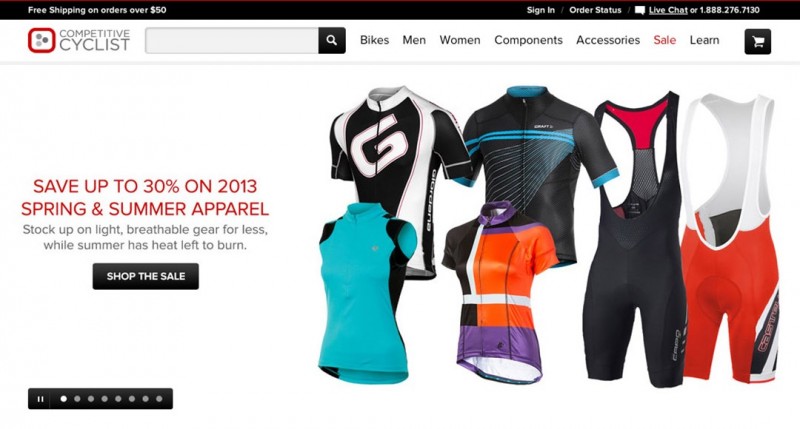 Online specialty bicycle retailer re-launches site with enhanced Bike Builder, community product reviews, and easier, faster navigation.
Today, Competitive Cyclist launches its new and improved website with features that enhance the overall customer shopping experience. From the new innovative Bike Build tool to easy-to-use navigation, the new site makes purchasing the right bike and best gear easier than ever, and it gets you out faster doing what you're suppose to be doing – riding.
"The new Competitive Cyclist site is faster and easier to navigate, has better search, and performs better on tablets and handsets," said Brendan Quirk, Executive VP of Customer Experience at backcountry.com. "Most importantly, we preserved and significantly improved the amazing feature set that makes Competitive Cyclist the pinnacle bike experience on the web today, including our Fit Calculator, Bike Builder, and pre- and back-order capabilities."
Customizing and fine-tuning your new whip doesn't get any easier than using the site's integrated Bike Builder. Located on all complete bike and frame-only product pages, the Bike Builder tool lets you configure your bike the way you want it. Complete with product images, the Bike Builder allows you to pick the right components that fit your needs in a seamless, well-designed platform. In addition, the new photo- and video-driven Fit Calculator offers a step-by-step guide to help you properly chose the right-sized steed for maximum enjoyment in the saddle.
The improved search feature provides more efficient and detailed product navigation and allows users to shop by category: road, mountain, tri, cyclocross, components, and accessories. The site has also been upgraded to include comprehensive user-generated product reviews from the Leaderboard community. In depth gear reviews include video and photos to provide rider-proven insight for a more enjoyable and educated shopping experience. Coming soon, the site will also feature a media library for added product support.
With faster site functionality comes a speedier and easier checkout with real-time inventory updates. There's no need to waste valuable could-be riding time getting hung up completing your cart, and the new site cuts this out of the picture.
Offering expert, industry-leading customer service, a No Questions Asked return policy, and built-to-spec, ready-to-ride bike delivery service, Competitive Cyclist brings the best brands in cycling to you to help make your next ride better than the last.
For more about Competitive Cyclist, check: www.competitivecyclist.com.
Image courtesy Competitive Cyclist