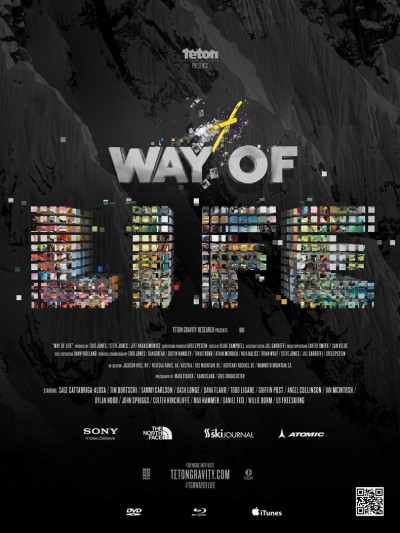 'Way of Life' is the first film shot with the most advanced gyro-stabilized camera platform in the world, the GSS C520
Multimedia action sports brand Teton Gravity Research (TGR) releases the trailer for the feature-length ski film, Way of Life.
This Fall, follow the TGR team as they set out on a mission to find snow's most hallowed ground, and experience a brotherhood that has no language and knows no boundaries.
Shot during the winter of 2013, Way of Life takes you on a journey to the mountains with today's top athletes. With stunning imagery created with GSS, Red Digital Cinema and the Sony Action Cam, this film explores the origins of skiing in Austria, the search for original lines in Alaska from TGR's Fantasy Camp, and the U.S. Freeskiing Team's quest for Olympic gold. The adventure also leads athletes to the rugged terrain of Jackson Hole and the Tetons, as well as the backcountry of British Columbia.
Starring: Sage Cattabriga-Alosa, Tim Durtschi, Sammy Carlson, Dash Longe, Dana Flahr, Todd Ligare, Griffin Post, Angel Collinson, Ian McIntosh, Dylan Hood, John Spriggs, Colter Hinchliffe, Max Hammer, Daniel Tisi, Sam Winship, Willie Borm, US Freeskiing Team
On Location: Jackson Hole, Wyo.; Neacola Range, Alaska; Fieberbrunn, Austria; St. Anton, Austria; Zillertal-Hochfugen, Austria; Red Mountain, BC; Stellar Heli, BC; Selkirk Wilderness, BC; Kootenay Rockies, BC; Mammoth Mountain, Calif.
"Way of Life was created to tap into the global community that embraces this way of life we're so passionate about," says Steve Jones, TGR co-founder. "TGR has over 15 years of aerial cinematography experience, and this film, which marks the cinematic debut of the GSS system, contains the most stunning footage we've ever shot."
"We really put the GSS system to use at TGR's Fantasy Camp, which is the most cutting-edge heli outpost concept ever devised," adds Todd Jones, TGR co-founder. "The camp gave us a home base from which to pick off first descents in Alaska's remote Neacola Mountains, allowing TGR to continue our tradition of exploring the unknown."
Way of Life will premiere September 21, 2013 at the Walk Festival Hall in Teton Village, Wyo., followed by a film tour with over 150 screenings around the world, as well as releases on Blu-ray, DVD and iTunes. Click here for more information on tour stops in your area.
Image and video courtesy Teton Gravity Research