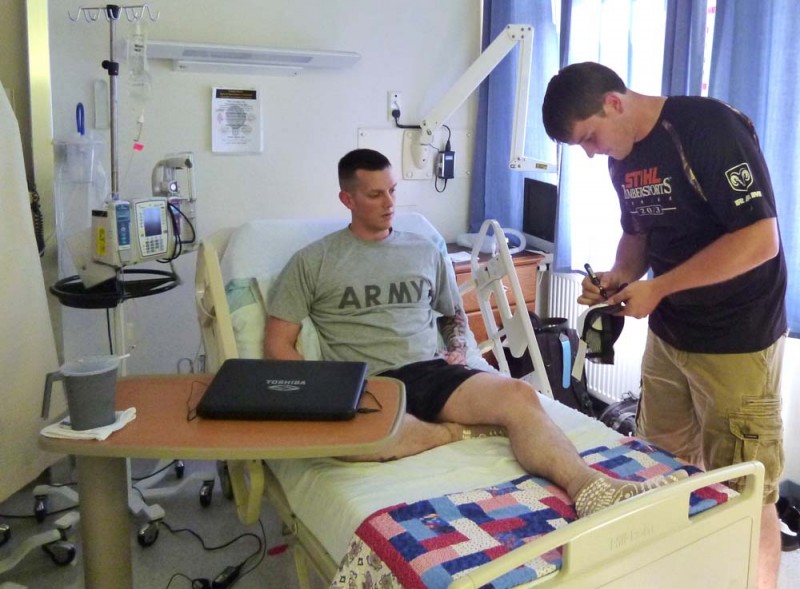 The 2013 STIHL TIMBERSPORTS United States Lumberjack Champion Matt Cogar recently spent the day visiting with wounded United States soldiers at the largest military hospital outside of the continental U.S., the USO Warrior Center at Landstuhl Regional Medical Center in Landstuhl, Germany, on Aug. 6. Cogar signed autographs, gave out STIHL TIMBERSPORTS hats and shirts, shared stories, visited bedside and enjoyed dinner with the wounded warriors.
Cogar, age 26 of Diana, W. Va., will return to Germany Oct. 25-26 to represent the United States in the STIHL TIMBERSPORTS World Championship in Stuttgart, where he will take on the best lumberjack competitors from around the world.
He made history in June when he became the youngest U.S. Champion in the STIHL TIMBERSPORTS Series' 28-year history, the nation's premier lumberjack competition. Cogar beat out hundreds of the country's top lumberjack athletes for bragging rights and the opportunity to represent the United States at the World Championship. For his U.S. Championship victory, Cogar was also awarded a Ram 1500 truck.
Established in 1985 by STIHL, the number-one selling brand of gasoline-powered handheld outdoor power equipment in America*, the STIHL TIMBERSPORTS Series presented by Ram Trucks and billed as the Original Extreme Sport, attracts the world's top lumberjack athletes in a competition based on historic logging techniques. The Series is seen by millions of viewers annually in more than 62 countries on networks such as Eurosport, Outdoor Channel and ESPNU.
The STIHL TIMBERSPORTS Series pro competition consists of six professional lumberjack disciplines, the hot saw, single buck, springboard chop, standing block chop, stock saw and underhand chop. Held in conjunction with the Collegiate Series, the five qualifying rounds pit the top eight lumberjacks in the region against each other with the top four pro athletes from each advancing to the U.S. and Collegiate Championships. These four individuals not only compete against other competitors from around the country for the championship crown, but also join together to represent their regions in the STIHL TIMBERSPORTS Relay Competition. In addition to receiving the ultimate bragging rights in lumberjack sports and a Ram 1500 truck, the top U.S. competitor also advances to the World Championship.
Get the latest information, stay up to date on news and competition and access behind-the-scenes photos and videos by joining the STIHL TIMBERSPORTS Series community online and on Facebook, Twitter and YouTube.
Image courtesy STIHL