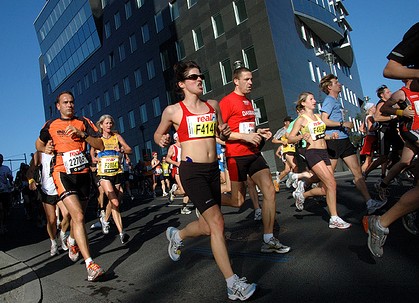 Whether you're training for a marathon or are a cyclist looking to keep your diet on the same level as your exercise, there are specific foods that can assist in providing the necessary energy. While some people jump directly to the energy bars and gels for nourishment along the way, everyday diet is just as important while training.
1. Quinoa: Regarded as a superfood, quinoa is a popular go-to for athletes preparing for a big event. This fast-cooking food most resembles a grain, although it is classified as being closer to beetroots and spinach. It can be cooked (or uncooked) like one would cook rice and can be used in a variety of dishes, so incorporating this into your diet offers a number of meal options. According to Elizabeth Stein, author of Eating for Energy: Endurance Sports Cookbook, "The Incas used it to increase the stamina of their warriors and allow them to run long distances at high altitudes. It is an ideal food for endurance." Quinoa, which is gluten free, houses nine essential amino acids that are evident in milk. Also enclosed are Manganese, Magnesium, Iron, Zinc, Potassium, and Calcium.
2. Greens: While greens technically fall under the vegetable recommendation that comes in later on this list, those such as kale and swiss chard are what Stein said is missing from most diets of not only the average person, but endurance athletes as well. The nutrients provided by these foods are those most necessary for successful performance in endurance sports. Some of these include Calcium, Vitamin C,
Magnesium, Zinc, and Iron.
3. Oatmeal: This complex carb is not only great for the training period, but recommended to eat the morning of an endurance event. Adding fruit, nuts, and whatever ingredients appeal to each person make this meal more enjoyable.
4. Salmon: As one of the best sources of protein out there, this is one that will leave athletes feeling energized rather than lethargic. In addition, it is one of the best sources of Omega 3, an essential fatty acid. Salmon also provides additional benefits such as easing the joints and decreasing inflammation. As for how it can be cooked, this is another food that has a variety of options. One can simply add lemon or choose to grill with teriyaki sauce, and tossing the leftovers on top of a salad the next day is always easy.
5. Vegetables: This is the staple for most endurance athletes. While protein is necessary to keep runners and cyclists, among others, going – veggies are a must. Because eating them raw provides the most nutrients for the body, it actually makes cooking quite simple, as little preparation will need to be done. Cooking vegetables is also great, as long as the body is acquiring enough raw food. Stir-frys are another meal that can be easily changed by incorporating different veggies, spices, and homemade sauces.
6. Fruit: This is another must for endurance athletes to incorporate enough raw food into their diets. Also, it satisfies the sweet tooth that is often begging for the sugar that has been removed from the diet during training.
Image from KJohansson on the Wikimedia Commons