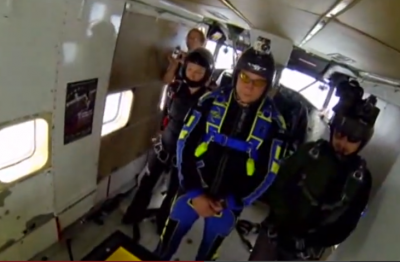 Anthony Martin, an escape artist from Wisconsin, used his experience in picking locks to free himself of shackles and get out of a locked box while falling from an altitude of 14,500 feet. This stunt, which he completed on Tuesday in northern Illinois, required a team of skydivers who assisted in checking one another's equipment and securing 47-year-old Martin inside the box.
The plane used in the stunt was a Short SC.7 Skyvan. Completing the task of freeing himself in less than one minute at 130 miles per hour, he then parachuted to safety and landed in an open field. He escaped at about 6,500 feet, according to a report by CNN. Attached to the box he was in was a small parachute called a drogue, which is similar to those used to assist in slowing down race cars. The drogue was held into the wind from the plane, which worked to pull the box out of the plane and into a free fall.
There were reporters, along with a crowd, waiting for Martin and his team when they landed. He told the Associate Press that he felt hypnotized as he was watching the box fall behind him following his escape.
This was not the first time he has completed this stunt. Martin, who learned how to pick locks at age six, said back in August 1988 he did the same escape. At the time, his skydiving experience was limited and the stunt occurred on his seventeenth dive. Martin wrote about his life as an escape artist in his new book, Escape or Die, which will be released this month.
For more information on Martin, check out his website.
Image is a screenshot from video by AssociatedPress on YouTube