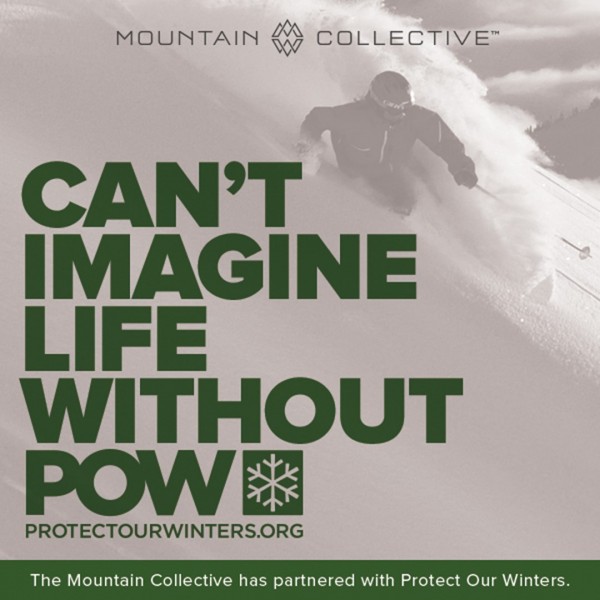 Partners to collaborate to further mobilize the winter sports community on climate change
The Mountain Collective, an alliance of independent mountain resorts, and Protect Our Winters (POW) are proud to announce a new and innovative partnership with the mission of uniting the winter sports community on the important issue of climate change. Both groups have worked independently to promote this environmental cause, and this collaboration will make and even bigger impact.
Protect Our Winters is the environmental center point of the winter sports community's fight against climate change. The Mountain Collective is comprised of six iconic destinations representing the core of the skiing and snowboarding world including Alta, Aspen/Snowmass, Jackson Hole, Mammoth Mountain, Snowbird, Squaw Valley/Alpine Meadows, and Whistler Blackcomb. Together, POW and these high profile resorts can impact the entire community and industry with incredible effectiveness.
"Through this groundbreaking partnership, The Mountain Collective has re-defined what a pass should be. It not only represents access to six world-class destinations, but the foresight to realize that climate change is a threat to our sport and with that access, comes a responsibility to protect it for the long term," says POW's Executive Director Chris Steinkamp.
"Partnering with a leading organization like POW serves to reinforce The Mountain Collective as the most forward-thinking alliance of its kind," says Christian Knapp, vice president marketing, Aspen Skiing Company. "Together we can leverage the power of our brands to promote meaningful climate advocacy that resonates with mountain resorts and snow sports enthusiasts alike."
The partnership will include ongoing advocacy and cross-marketing initiatives, education and community outreach to raise awareness and promote environmental sustainability. Additionally, POW members who purchase a Mountain Collective Pass will receive a year's subscription to Powder magazine, and anyone who purchases a new Mountain Collective Pass will be offered a free one-year membership to POW.
The Impact of Climate Change on Winter Sports
The last decade was the warmest on record [NOAA, 2010]. Fewer ski days would not only reduce enjoyment for skiers, boarders and other winter sports enthusiasts, but also cause significant economic impact to an industry that supports 965,000 people and contributes $66 billion to the U.S. economy alone [OIA 2006, 2012]. Without action to reduce emissions, scientists predict that by 2039 the Northeast ski season will last less than 100 days and the probability of being open by Christmas will decline below 75% [Scott et al. (2008)].
The 2013-2014 Mountain Collective Pass Returns Aug. 13
The Mountain Collective Pass will go back on sale on Aug. 13, 2013, at just $379 USD (children 12 and under at $239). The pass includes two days of skiing or riding at each of the six destinations (AltaSnowbird, Aspen/Snowmass, Jackson Hole, Mammoth Mountain, Squaw Valley/Alpine Meadows and Whistler Blackcomb), plus unlimited 50 percent off all additional days with no blackout dates. Passholders also receive exclusive lodging deals throughout the season.
The Mountain Collective™ Pass grants access to 12 mountains with more than 30,000 acres of terrain, 186 lifts and an unmatched reputation for snow quality, quantity and steeps. Passes are available online through an exclusive technology, distribution and marketing partnership with Liftopia. Visit www.MountainCollective.com or call (800) 705-6286 for more information. Price subject to change.
Image courtesy Protect Our Winters