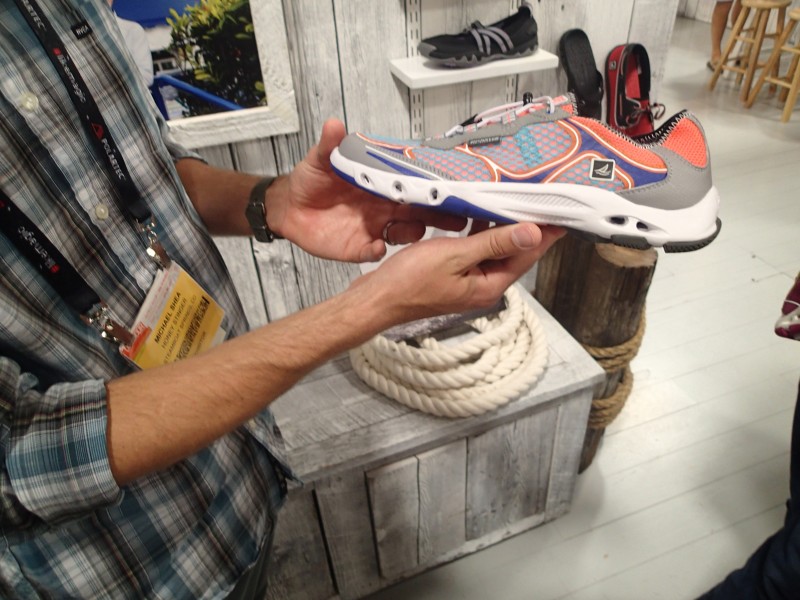 Sperry Top Sider will be releasing several new shoes this year, including a more well-rounded water shoe called the H20 Escape, as well as sandals that have a more casual look while still incorporation the traction technology the company is known for.
"The name [H20 Escape] doesn't say it all, but it says a lot about the shoe," said Mike Shea from Backbone Media. "You can escape to the water, on the water, in the water, and around the water. It's an amphibious shoe like all Sperry shoes that's built for multi-water use and it's also extremely comfortable and lightweight."
He said for years Sperry has been known for incorporating incredible traction into its products. The very first boat shoe that was invented by Sperry in 1935 was the original performance water shoe, using a technology that is still featured in all of the current products.
"This shoe features Adaptive Wave Siping on the bottom, so it provides great traction on both wet and dry surfaces," Shea said. "It's got a lot of mid-sole evacuation so that your feet stay dry. It's a quick-dry material that's very breathable. This is the shoe for all water sports–everything from sea kayaking to rafting to just your beach vacation."
The shoe, which will be released this fall, comes in several colors and in both men's and women's versions.
Sperry is also releasing new sandals that incorporate the same technology used in their other shoes, but have a look that is more casual and can be worn not only out on the water, but around town as well.
"They have the same technology, the same use–but we also do them in really fun colors," said Vice President of Performance Product R. Lee Baxter. "We take a lot of trend cues from the industry to figure out what's happening say, in 2014, and try to tie them into our color pallets."
To check out other products by Sperry Top Sider, visit the website.
Images by Ariel Black