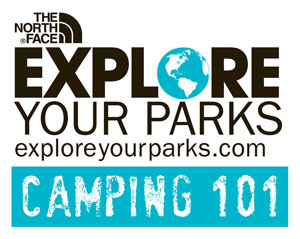 The Department of Natural Resources and The North Face are teaming up to offer Camping 101 at Michigan state parks to educate first-time campers on the basics of camping.
The Camping 101 experience includes a two-night stay with all the gear, guides and good times included for just $20. It begins with a First-Timers Welcome Kit filled with details on what to pack, what to expect and what to wear. Then, when visitors check in at their campsite, park staff members will walk them through the process of setting up camp and settling in for a great Michigan adventure.
As part of their Camping 101 stay, visitors will receive a prime camping location, tent, tarp, flashlight, lantern, camp stove and four hot dog/marshmallow cookers. All equipment is provided courtesy of The North Face and must be returned at the end of the camping trip.
Camping 101 is offered at the following Michigan state parks:
The great outdoors awaits, so choose your Camping 101 date and call your desired state park from the list above to begin your adventure in Michigan's great outdoors!
While you are at a state park, why not check out the calendar of Recreation 101 programs and learn a new activity like archery, fishing, kayaking or stand-up paddleboarding? All Rec 101 programs are free, and all equipment is provided for participants.
The Recreation Passport is an easy, affordable way for residents to enjoy and support outdoor recreation opportunities in Michigan. By checking "YES" for the $11 Recreation Passport ($5 for motorcycles) when renewing a license plate through the Secretary of State (by mail, kiosk, online at www.expresssos.com or at branch offices), Michigan motorists get access to state parks, recreation areas, state forest campgrounds, non-motorized state trailhead parking and state boat launches. In addition, Recreation Passport holders can experience real savings at businesses and retailers that participate in the Passport Perks discount program. The Recreation Passport is valid until the next license plate renewal date. Nonresidents can purchase the Recreation Passport ($30.50 annual; $8.40 daily) at any state park or recreation area or through the Michigan e-Store at www.michigan.gov/estore.
Learn more about this creative way of sustaining Michigan's outdoor recreation and natural resources at www.michigan.gov/recreationpassport. For information on Passport Perks shopping discounts or how businesses and retailers can enroll in the program, visit www.michigan.gov/passportperks.
Logo courtesy Michigan Department of Natural Resources