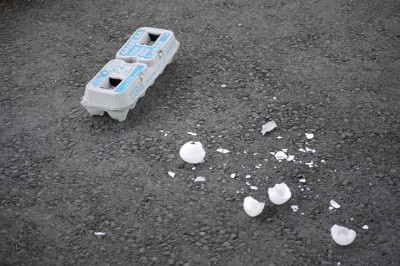 Temperatures in Death Valley National Park edged closer to beating the heat record set there one hundred years ago with the help of a recent heat wave sweeping through California, Arizona, and Nevada. Dealing with an influx of new "heat tourists" and other visitors, park officials now have a strange, yet stern warning to parkgoers: stop frying eggs on the park's pavement or rocky areas.
It is commonly believed that the temperatures at Death Valley are high enough to cook eggs merely by cracking one over a flat surface. A recent video released by an unnamed park employee showed that it was indeed possible to do so on the park's grounds, but in a frying pan with a cover.
With the highest temperatures experienced in a century baking the park, visitors are having fun trying their hand at a pavement-provided outdoors breakfast. Unfortunately, it does not work. The discarded mess is then left behind for wild animals, or more likely, park employees to clean up.
"The Death Valley NP maintenance crew has been busy cleaning up eggs cracked directly on the sidewalk, including egg cartons and shells strewn across the parking lot," read a post on the park's Facebook page. "This is your national park, please put trash in the garbage or recycle bins provided and don't crack eggs on the sidewalks, or the Salt Playa at Badwater."
Without out the aid of tools, it is very difficult to fry a raw egg on natural surfaces. Researchers have determined that the average egg requires a blistering 158 degrees Fahrenheit to become firm, and the temperature has to be maintained in order for it to be cooked fully. At the uppermost, temperatures at Death Valley push into the low 130s.
A park employee shows the proper way to do it, without leaving a mess:
Image courtesy Death Valley National Park