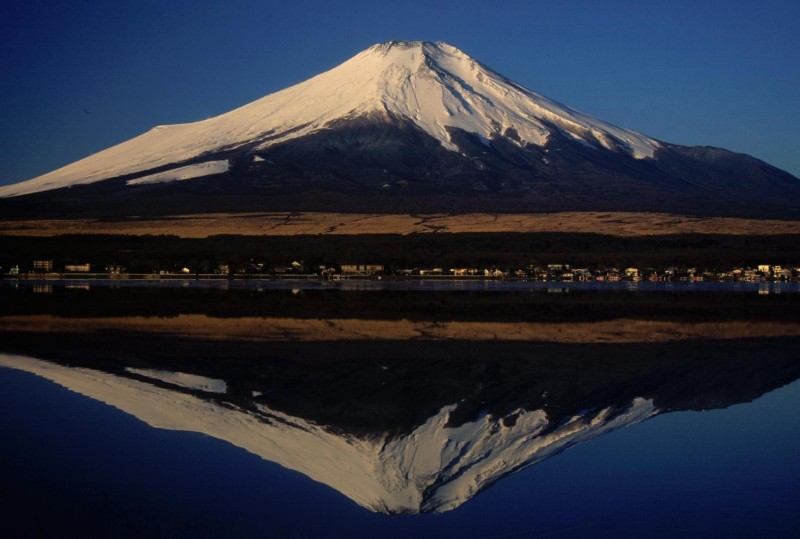 Approximately 300,000 people climb Mount Fuji every year, with the season beginning in early July and running through the end of August. It is expected that the number of climbers will rise this year because of the naming of the destination as a Cultural Site on the World Heritage List.
Fuji is Japan's highest mountain, which reaches 12,389 feet and is one of the nation's three "holy mountains," along with Mount Tate and Mount Haku. It is located near the Pacific coast of central Honshu, which is west of Tokyo. The snow-capped volcanic cone has been a popular tourist destination for years because of its portrayal in a number of famous works of art dating back to the 1600s. Katsushika Hokusai's 36 Views of Mount Fuji is a series of large, color woodblock prints that were created between 1826 and 1833. While there are actually 46 prints in total, there were originally 36 with ten more added at a later date because of its rising popularity. Hokusai later created 100 Views of Mount Fuji. Because this location was so influential for artists, UNESCO's World Heritage Committee decided at its June meeting in Cambodia that it should be a cultural site rather than a natural site.
It is rumored that the first ascent of the mountain was completed by a monk in 663. The site has been considered a sacred location, and the base of it was home to ancient samurai as a training ground. The first recorded ascent in more recent history was in 1868 by Sir Rutherford Alcock, who was the first British diplomatic representative to live in Japan. Alcock took eight hours to reach the top, with an additional three hours to descend. 

In the beginning of 2013, it was rumored the magma chamber pressure could possibly lead to an eventual eruption in 2015 or before. It is unknown what degree of damage could be done if this were to occur. Heavy research began after the 2011 Tohoku earthquake and tsunami that attempted to predict what the volcanic reaction of Mount Fuji would be. Models were formed by the National Research Institute for Earth Science and Disaster Prevention that indicated the volcano's magma chamber could possibly be 1.6 megapascals (a pressure measurement), which is higher than it was in the early 1700s.
Although these worries are vocalized, it hasn't stopped climbers from making the trek to the summit.
Climbing Mount Fuji during the fall through spring months is highly discouraged because of the cold weather and dangerous conditions. Most climbers choose to begin their routes at a time that allows them to reach the top at sunrise for a beautiful view. There are four major routes people follow up the mountain from the new fifth station, and an additional four that people can trek from the foot of Mount Fuji. The fifth station sits at 7,550 feet above sea level.
When climbers reach the top, there are eight peaks surrounding the crater at the summit of the mountain, all of which are open to the public. The peak of Ken-ga-mine is the highest point in Japan and is where the Mount Fuji Radar System used to be based. This historic weather radar system was completed in 1964 and operated as the highest radar system that was able to observe major weather. Designed by the Japan Meteorological Agency, is was decommissioned in 1999 because advancements in satellite technology made it unnecessary.
Image from Alpsdake on the Wikimedia Commons