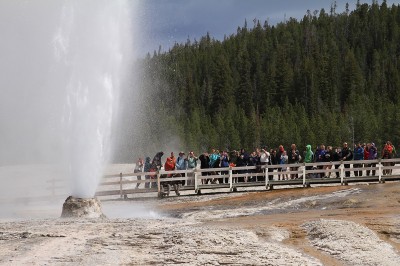 Park officials for Yellowstone and Grand Teton national parks announced recently that there has been a noticeable spike in visitor illness. According to a statement by Yellowstone on their Facebook page, officials are especially worried about norovirus, a common contagion that could be spread through food and water.
On June 7 a tour group fell ill will visiting Mammoth Springs, suffering stomach cramps and other symptoms. Another 50 visitors were diagnosed with gastrointestinal illness and treated in nearby clincs. A test later showed that norovirus was indeed to blame, and rampant throughout the park staff. Over 100 Yellowstone park employees are suspected to have been infected with norovirus and another 50 employees at Grand Teton are also showing symptoms.
Norovirus infections can be diverse in effect but often include nausea, abdominal pain, and vomiting. The virus itself is usually not serious but can spread quickly and induce severe pain. Park officials are advising visitors to frequently wash their hands, while businesses operating in the park are taking extra measures to ensure a safe and sanitary environment. Employees that are believed to be infected are barred from returning to work for at least 72 hours.
The Center for Disease Control and Prevention reports that 21 million people in the United States contract norovirus every year. It is the most common cause of foodborne-disease outbreaks and lands roughly 70,000 people in the hospital every year. The best method of prevention is simply washing with soap and keeping food preparation clean.
Image courtesy Yellowstone National Park