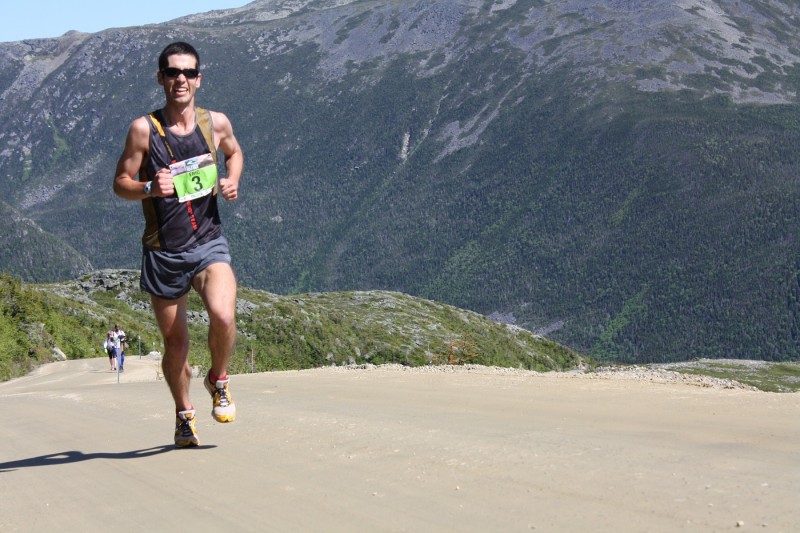 Reaching the finish line of the Mount Washington Road Race is a crowning achievement for many a runner.
But for female winner Laura Haefeli just getting to the starting line was an ordeal that started with a four-hour drive from a small Colorado town to the airport, a delayed flight to Boston, followed by her ride for the remaining 150-mile road trip with another runner to the competition leaving without her.
Race organizers stepped in and found a Boston-area volunteer to pick up the 45-year-old at the airport and house her for the night. Then the next day, another volunteer drove her to New Hampshire's White Mountains for the race up the Northeast's highest peak.
Still, Haefili ran a 1:18:05 in the 53rd Northeast Delta Dental Mount Washington Road Race (a 7.6-mile climb that follows the Mount Washington Auto Road) Saturday won for the third time by Eric Blake, 34, of New Britain, Connecticut in 59:57.
"It's never easy getting here from southern Colorado but it's always worth it," said Haefili.
She commanded the lead early, held it and beat her closest competitor by more than five minutes, the four-month pregnant two-time race champ Brandy Erholtz of Evergreen, Colorado.
For Blake, the win was particularly sweet following a few years of frustration of near victories. He placed fourth in 2004, second in '05 and won in both '06 and '08. But a yet-to-be-diagnosed torn hamstring that would later require surgery resulted in a ninth place finish in 2011.
"I didn't want another runner up," he said.
Blake, a Central Connecticut State coach, started the race against the two runners that beat him last year—Sage Canaday of Boulder, Colorado and Joseph Gray of Renton, Washington.
Gray had a strong start and created a gap that held for about three miles until Blake and Canaday passed him. Blake continued hard as Canaday dropped back with Blake pumping his fist with confidence long before the finish.
"I had thought I'd finish in 61 minutes," he said, "but I was going as quickly as I could."
Strong winds gusting over 30 mph toyed with runners above tree line of the twisting and steep paved and dirt road up the mountain with an elevation of 6,288 feet. When at their backs, the wind was kind, but in their face it was a punishing wall.
Haefeli, of Del Norte, Colorado, set a women's masters record at the mountain in 2008, and twice made the podium before her victory. She is also the first American woman ever to win an individual medal in the World Mountain Championships.
The race attracts hundred of runners from elite hardcore and trail runners to those who just want to make it to the finish line. This year's field of about 1300 runners from 34 states included several multiple "Race to the Clouds" winners and at least three U.S. Olympian cross-country skiers.
Making a return to the mountain was Simon Gutierrez, 47, of Colorado Springs, Colorado. A three-time winner, Gutierrez placed fourth in 1:04:44.
"The mountain is steep and there's no relief," he said.
The mountain weather is often notorious too. There can be fog, rain, freezing temperatures, and of course tempestuous winds. Even cars some times have trouble handling the 4,650-foot elevation gain.
The average grade is 12 percent with a finishing pitch of 22 percent just before the end.
Running the mountain for the 13th time and finishing fourteenth was Kevin Tilton, 31, of North Conway, New Hampshire.
"This one is unique," said the two-time member of the U.S. Mountain Running team. "There is a paved road which you don't see in a lot of mountain races. Pretty much from the time you start to the time you finish there is no break. There's no real flats. There is no real chance to catch your breath. You are pretty much going to have your heart in your throat from about a quarter mile in all the way to the finish."
Images by Marty Basch