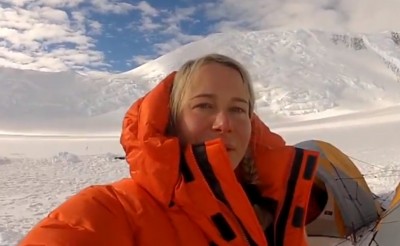 One of the holy grails in adventuring is known by many as the "Explorers Grand Slam." The quest requires an arduous journey around the globe, climbing seven of the world's most famous mountains and arriving at both the South and North Poles. To complete the journey at all is an incredible feat that requires endurance, skill and not a small amount of resources. According to the Boston Globe, it is estimated that only 30 people have completed the Explorers Grand Slam in their lifetime. Mountaineer Vanessa O'Brien completed the trek in less than 11 months.
O'Brien pushed into the challenge at full speed, tackling Mount Everest as her starting mark in May 2012. After that, it almost seemed easy. Denali, Elbrus, Kosciuszko, Vinson Massif, Aconcagua, Kilimanjaro, and the Carstensz Pyramid all gave way before her boots. These are some of the world's tallest mountains, and could test the ability of even the most experienced climbers.
O'Brien's last task was to reach the North Pole, and it proved to be a difficult one. Temperatures hovered at 40 degrees below while 30 mph winds made the going difficult.
"It was the coldest thing I have ever done by far, which only meant we moved faster to stay warm and take advantage of 24-hour sunlight," O'Brien says. "We have a three pole poke rule–slamming the ski pole into the ice to see if it will break and hold our weight. This was hard every day and so cold that your face, hands, and feet could not be exposed for any length of time."
The Arctic trip was completed in only four-and-a-half days, during which the Boston Marathon bombing occurred. Upon reaching the North Pole, O'Brien unfurled a Red Cross flag over the site and dedicated the trip to the victims of the bombing.
"It's hard to feel like celebrating with such a tragedy unless one turns it around into a symbol of unity against violence and/or terrorism," she said afterwards. The Grand Slam completed, she received a certificate of completion from Barneo Ice Camp and began the trip back home.
O'Brien tells the Boston Globe that she plans on resting at her Boston home before possibly penning a book about her adventures. She is the fastest woman to make the Explorers Grand Slam, and the second fastest overall. In 2011, former rugby player Richard Parks completed the feat in only seven months.
A video compilation of O'Brien's Explorers Grand Slam can be seen below:
Image screenshot of video by Vanessa O'Brien on YouTube