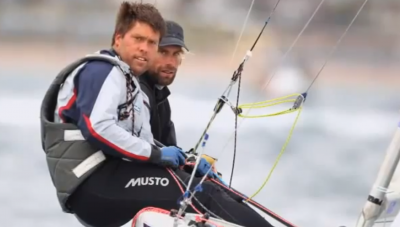 British Olympic medalist Andrew Simpson, 36, died Thursday when his catamaran flipped over in San Francisco Bay. According to CNN, Simpson and the Swedish team Artemis were training near Alcatraz Island when the boat flipped and trapped Simpson under the ship. The rest of the team managed to swim to safety and were rescued by nearby ships, but Simpson remained under the water for a short period of time. Swimmers managed to pull Simpson from the upturned boat, but attempts to resuscitate him were unsuccessful.
"Our prayers are with Andrew Simpson's family, his wife and kids, and also the rest of my teammates," said Paul Caynard, head of Artemis Racing. "It's a shocking experience to go through, and we have a lot to deal with in the next few days in terms of assuring everybody's well being."
Catamarans are geometry-stabilized, multihulled boats that rely on the shape of the boat for stability, rather than weight distribution. They are known for being fast due to their low-drag, high power design. However, some sailors say they are uncomfortable with the design, citing risks inherent with the ship structure. It is reported that the Artemis team was sailing a new AC72 multihull to train for America's Cup. The ship is noted as being extremely expensive and custom-made from lightweight materials.
"The crews who sail them talk openly about the danger, and hard hats, body armor, and personal air bottles are all part of their sailing gear," said Mainsail host Shirley Robertson, a friend of Simpson.
Officials are currently investigating the cause of the accident, which occurred in 20 mph wind and relatively calm water.
Footage taken after the incident can be viewed below:
httpv://youtu.be/WT4safVQbV4
Image screenshot of video by NewsOfWorldToday on YouTube